Opinion: This is better than revenge
Taylor Swift's newest album release is part of a long-term mission to take back the credit she deserves.
Eleven-time Grammy winner, Taylor Swift, released her newest album, "RED (Taylor's Version)," on Nov. 12 2021. The album broke the record for most streams in a day on Spotify, a title already held by Swift, with 90.8 million streams. It's no wonder that this album performed so successfully as it is the re-recorded version of her 2012 hit album, RED.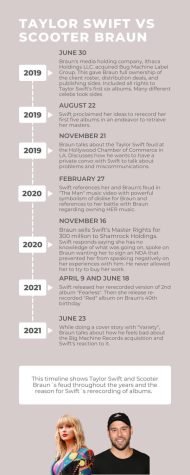 This is Swift's second "Taylor's Version" album so far, with "Fearless (Taylor's Version)" being the first. The "Taylor's Version" albums both include songs, as Swift calls them, "from the vault." Essentially, these are songs that never made it on the albums at their original release date.
In the "RED (Taylor's Version)" album, the song "All Too Well" is included as a remake from the 2012, but most notably, it now has a 10-minute version, along with a short film. The 10-minute "All Too Well" has created a lot of media attention. Even those new to Taylor Swift can enjoy it. Junior Synthia Cardenas expressed her support for Swift, despite not being as hard of a swiftie as others, "She [Swift] gets a lot more hate than she deserves, she's very talented." 
Campus supervisor, Jaime Gallegos had heard of Taylor Swift, but wasn't aware of her music. We took that opportunity to get an unbiased reaction to "All Too Well." Gallegos listened to the song for much longer than expected. When asked if he would listen to the song for the whole 10 minutes, Gallegos said, "Yeah. I would. I would rock it. Yeah!"
Swift is an inspiration to many. Her songs about heartbreak and exploitation are so relatable, especially now. With her music, she inspires and allows her listeners to feel heard and validated. She gets us, she loves how we love and she feels how we feel. Teenagers now can relate to Swift because her music is the embodiment of young love and life.
Swift has plans to continue releasing more "Taylor's Version" albums in an attempt to re-record the songs unjustly bought by Scooter Braun. After attempting to purchase her music herself and being denied, Braun purchased the music without Swift's knowledge for Ithaca Holdings. According to Swift, Braun never contacted Swift or her team prior to the sale. It was a shady effort to "buy" Swift, as expressed in one of Braun's social media posts. This entire process is a clear example of how those with money, connections and power take advantage of young artists. Everything is hidden under archaic contracts and disingenuous niceness in the meeting room.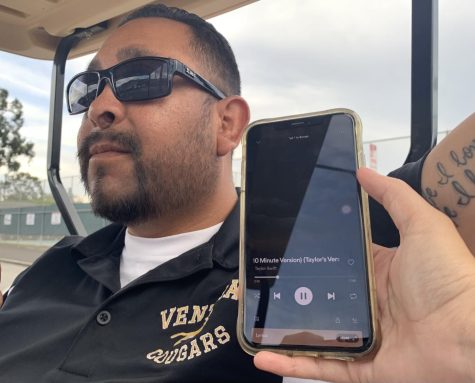 Swift has been an advocate for the justness of revenue flow, especially with the ability to stream songs arriving within in the last two decades. It stems from the issue of contracts not having caught up with technology as quickly as music production has. This has left a loophole for private equity, which is essentially a form of capital investment made within companies not listed on a public exchange.
During her speech at Billboard's Women in Music 2019, accepting her award for Woman of the Decade, Swift said, "People love to explain away a woman's success." Her music is her way of breaking the stereotype that women cannot be powerful in the music industry. No matter how heartfelt or "girly" some of her songs might be, they will never represent a weak woman.