Ventura High School front office damaged
Rock thrown at front office door results in the glass door shattering
The main entrance to the Ventura High School office was broken on Jan. 25, sometime between 6 p.m and 7 p.m., a student threw a rock at the front office door, resulting in the glass making up the door shattering. According to VHS principal Marissa Cervantes, "Based on our investigation it was not done with intent but it was broken by a very small rock that was thrown."
Cervantes said, "I probably wouldn't have thought that that [the rock] could do that kind of damage." There was no intrusion into the building itself, and nothing was stolen from the front office. She confirmed that all office staff had been vacated from the building during the incident. VHS custodial staff reported the incident.
After watching the surveillance video Cervantes was able to conclude the suspect was a VHS student. Cervantes said, "It was an individual student [who broke the glass]." Cervantes has spoken with the party responsible. On the educational side, it has been taken care of now it is in the hands of law (Cervantes would not specify further). The Ventura Police Department was alerted that night, and the school resource officer continued after the city police left. 
While there were no direct witnesses to the incident itself, junior Livia Vertucci witnessed the aftermath of the incident. Vertucci said, "I was at VHS for my younger sister's concert that was happening in the big theater. It's around 8:30 [p.m.] and I walk out towards my car and I realize that the window is smashed and there's caution tape all around and there's a ton of glass on the ground."
Vertucci said, "I immediately thought that someone broke in. A few years ago we had somebody break-in so I thought it happened again."
Cervantes believed that VHS already has the necessary preventative measures to stop a similar incident from happening again. She said, "We have our cameras that we were able to refer back to and that gave us a lead." 
Cervantes said, "We made sure that it [the door] was boarded up last night, someone on call came out. We will make sure that it's repaired as quickly as possible and obtaining restitution for it might take some time."
As of Jan. 26, the responsible party (the student who broke the glass) will likely be liable for the damages, but the investigation by school resource officers and the Ventura Police Department is not yet complete.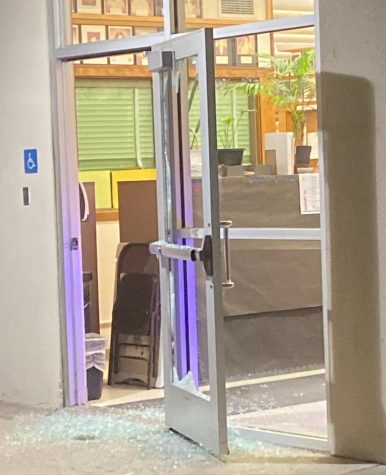 As far as estimated damages Cervantes is unable to say exactly at this moment. The cost of repair and labor will be taken into account. She said, "We complete a vandalism report that gets submitted to our district office. […] Whoever is aligned to windows and glass would obtain an estimate and see what direction we are going to go in."
The student responsible will be liable for the damages. Cervantes said, "We will make sure that it is repaired as quickly as possible, and then obtaining restitution for it might take some time for the responsible party." She said, "An organization will work toward obtaining restitution and they usually do payment plans." 
Repairing the damage is a top priority for Cervantes. She said, "That is the entrance for our school for a lot of our families and community members so we want to make sure that is taken care of quickly."