Fire spreads to northern Ventura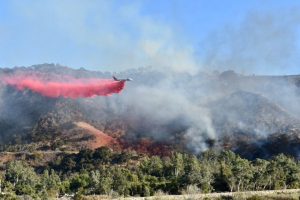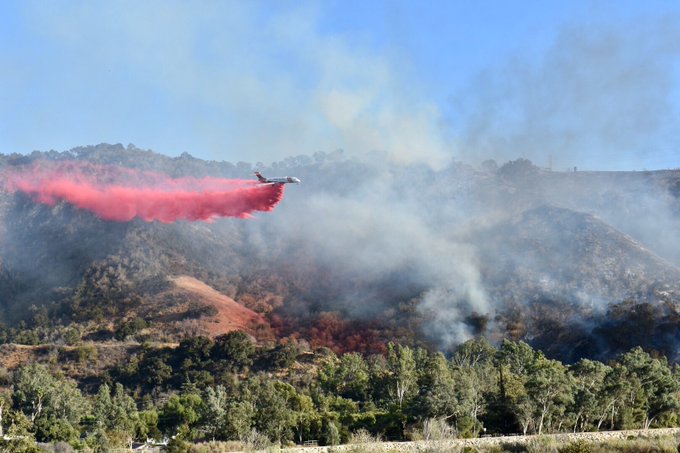 On October 24 at about 2:35 p.m. northern Ventura began to experience a brush fire due to the heat wave that was taking place. Local fire departments received calls that a brush fire had started on the the 7200 block of Ventura Avenue, up on the northern hills of Ventura.
Some firefighters believed that the fire was caused due to the combination of a heat wave and strong winds. Many roads and the northbound 33-highway, were blocked off due to the brush fire.
According to the VC Star, two firefighters were injured in the line of duty. One firefighter suffered minor smoke inhalation, but has been treated and released back to work.
The other firefighter suffered multiple yellow jacket stings that were not life-threatening, but was transported to a local hospital. There were approximately over 100 firefighters trying to contain the fire.
As a safety precaution, Southern California Edison cut the power throughout northern Ventura during the fire incident. More than 8,000 customers were affected by the outage that started at 2:30 p.m.  Ventura residents power began to come back on shortly after 5 p.m.
 According to Ventura County Fire department captain, Stan Ziegler, "We're prepared for an event like this.
Ziegler later added that "The Ventura County Fire Department and other agencies, aware of the weather patterns, took precautions this week to ensure a swift attack on such a fire."
Ziegler shared that the fire had burned over 150 acres. During the fire a small travel trailer was burned, however, no other structures were threatened by the blaze.
As of October 25, firefighters have contained about 50 percent of the fire and all the roads that were closed were rescheduled to open back up at 12:30 p.m.