Opinion: "Puffs" review
The "Puffs" play is about a certain magic school in London that shows the story of the background characters and their lives
"Puffs" opened on Nov. 10 and had its last show on Nov. 19. Drama students like Adam Hibberd '24, Caydon Thomas '24, Sinthia Cardenas '23 and Mya Sherman '23 performed in "Puffs." "Puffs" is about a certain magic school and follows the journey of the Puff kids and their seven eventful years at school. 
"Puffs" was a funny and eventful play showing us the lives of background characters typically not talked about. The highlights of the play were the acting and the chemistry everyone on stage had. It really felt like they were more than just people reading off a script. They genuinely gave the impression that they were all close friends. 
"Puffs" viewer Clare Beckman '26 said, "It was super funny and especially fun for a Harry Potter nerd like me."
Some of my favorite parts were when Cedric, played by Quinn McMurty '24, would talk to the Puffs and act almost like a football coach. It gave so much more to the character that I never would have thought about.  
"Puffs" viewer Miley Wang '26 said, "I loved the character Cedric. He was so funny and as a Harry Potter fan, I would have thought he was a teddy bear but they gave so much more to his character."
Another amazing scene was when Wayne, played by Hibberd, Oliver, played by Thomas, and Megan, played by Cardenas, were looking into the mirror and seeing their dreams and hopes as well as when they met each other and became friends in the forbidden room."
Wang said, "The trio was so funny and it reminded me of my friend group."
The actors did a phenomenal job with everything, but I found that Voldemort was such a delight in the show. There was such a presence with Voldemort, and my favorite scene involving him was when he came out to the audience and performed stand-up comedy. The whole audience was dying of laughter as Voldemort brought up his life troubles. 
Beckman said, "The dark lord talking to the audience was by far the best part. That part made me laugh so hard I cried." 
The set designer did an amazing job. There were beautiful arches and even the small rooms had such tiny details that made it feel so real. It helped the story move along and Lighting did a fantastic job as well —  every light was spot on in the scenes that were happening. 
We really enjoyed being able to see the lives of the background characters who are usually forgotten. 
Wang said, "I really liked seeing the people who are not shown much on screen and seeing their lives." 
The play really showed the struggles of the students' lives and real world problems besides the magic such as how friends can really help you through rough times.  
Overall, this show was just amazing and it was one of my favorite plays that I have ever seen.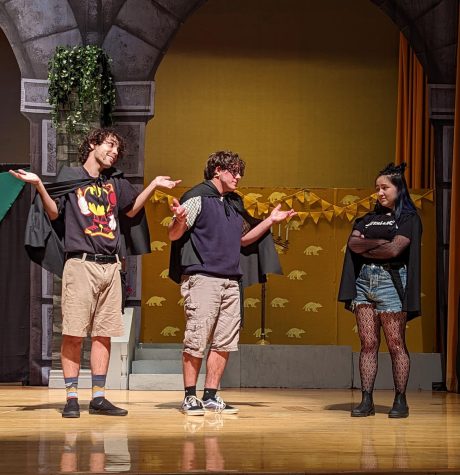 Beckman said, "Personally, I thought it was one of the best plays I've seen in a while."' 
From the acting to the directing, everything was just great. It was the perfect play for the drama department to start with this school year.