Cougars maul Tritons in their first home game of the season
On Tuesday, November 28, Ventura High School's girl's basketball team played their first home game of the season against Pacifica High School.
The game started out slow, with a score of 6-9  at the end of the first quarter. However, the cougars came back, dominating the court with a 50-23 win. The starters were seniors Jazmin Carrasco (#21,) Emma Larson(#23,) junior Alexis Brady(#33,) and sophomore Sammie Henley(#25.)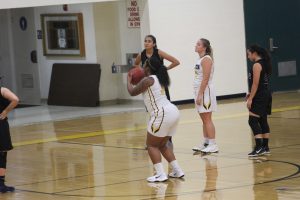 The second quarter was when the game really shifted and VHS was able to score 22 points.
Scoring wise, the second half of the game was slightly closer, with VHS scoring 19 points and PHS scoring 16. The Tritons top scorer was sophomore Carolina Naranjo(#3,) with a total of nine points.
Brady stated that the game was a good preview for next year's Pacific View League, which VHS and Buena High School will be joining in 2018.  
When asked if a huge win like this would boost morale, Brady stated, "Yeah, I definitely think starting off the season with a win was really important for our team to help build up our team's confidence."
Building confidence for the team is very important this year, after following the girls dominant season last year. The girls team went to the last game in the semi-finals of last years CIF State Tournament, and finished the season ranking 84th in the nation.
The team's next home game will be December 12, for the Ventura High Invitational. The teams VHS will be hosting are: Oxnard, Rio Mesa, Newberry Park, and Thousand Oaks.