Tyree Cruz passes the torch to Josh Spiker for cross country
Josh Spiker was hired as new VHS cross country coach
Josh Spiker has been hired as VHS' new cross country coach following Tyree Cruz's resignation. Spiker is the owner of Mile 26, a running goods store in Ventura. He is also a VHS alumni and ran track in high school and in college at the University of Wisconsin-Madison. 
Spiker said, "I am really excited and have inherited a great group of kids. I have a lot to learn but look forward to the journey ahead. I am going to learn a lot from the kids and hope they are going to learn from me. I think we can do great things together."
The VHS cross country team has nine runners competing in the California state championship prelimination round currently. VHS has had continual success in cross country in the past as well. 
Spiker said, "Coach [Bill] Tokar, Coach [Preston] Biller and Coach [Tyree] Cruz have built a great program over the years and I want to build upon that. My hope is that both the boys and girls teams will always be podium contenders at state and bring home state titles."
Spiker said, "[Coaching a team with high level talent makes me] nervous but in a good way. There are a lot of expectations and I have a lot to learn but I am pumped. We have the best high school runner in the country on the team and we also have student-athletes who have literally never ran and my job is to help them both reach their max potential and that is really exciting."
Previous coach Tyree Cruz had been coaching the boys team since 2002 and started as a coach at VHS in 1998. 
Cruz said, "[Spiker is] a great choice. He's a VHS alumni, one of the best runners that we've ever had here, owns a running store in town and he's been involved in running forever. I couldn't ask for a better choice to come in and take the reins. Josh has been a part of running for a long time. He just has to learn how to manage the coaching part. He's got to figure out all those things [behind coaching], but there's lots of people here that can help him."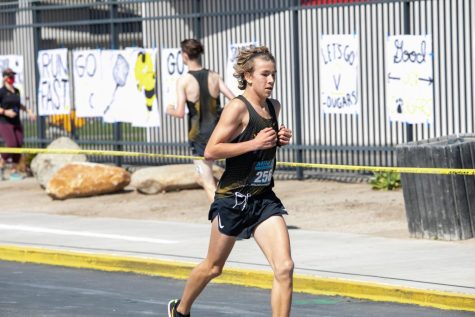 Henry Hammel '24, a cross country runner, said, "I think that Josh taking over will definitely bring an exciting change in culture as Josh is very into the sport and a very inspiring figure in the Ventura running scene. I personally believe that Josh being hired will help nurture the already great team culture that we have created as a very dedicated group of individuals."
In words of advice to Spiker, Cruz said, "[He should] make it his own."