Thomas fire sweeps through Ventura county
Fire began sweeping over Ventura's hillsides and into the city at 11:00 p.m. on Monday, December 4. Powered by high-speed winds moving from Santa Paula, CA, the fire continued to burn to Ventura and recently towards the Ojai and Santa Barbara area.
Ventura's police department has issued multiple mandatory evacuations for residents of Ventura who live from Telegraph to Teloma to Five Points and the Red Cross has set up a shelter in the Miners building at the Ventura County Fairgrounds. There are also shelters located in Oxnard, CA and at Mission Church on the east end of Ventura.
Dubbed the "Thomas Fire," the "fast-moving brush fire" has 45,000 acres and is at zero percent containment according to Ready Ventura County. Ready Ventura County has information pertaining to school closures, evacuation shelters, road closures, and voluntary/mandatory evacuations.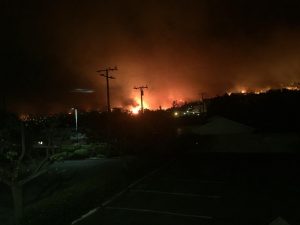 Ventura County's Fire Department has posted updates on social media and announced that it would hold an 8 a.m. press conference at its command post at the Fairgrounds. "150 structures destroyed. 1 firefighter injury. 27,000 people evacuated," wrote VCFD's Public Information Officer account on Twitter earlier this morning.
On top of official sources, social media accounts, CA Fire Scanner and VC Scanner have actively posted updates on the fire since Monday evening when it first began in Santa Paula. While both accounts state that they are unofficial sources, some students and residents have utilized it as a supplementary source: "The quality of the updates are very high as they appear to be made by off-duty firefighters who are pulling directly from official scanners and radios," said Cliff Wilcox. "It's pretty useful [because] it's given us an indication of where the fire is going," added junior Sam Coats.
Other students are concerned about Ventura's air quality, as the air is still filled with ash and smoke: "Air quality is what worries me now, especially because I have a three year old brother and a 10 month old sister," commented junior Acacia Harrell.
A smoke advisory for Tuesday, December 5 has been posted on Twitter by Ventura County's Air Pollution Control District.
Ventura Unified School District announced that school would be closed Tuesday, December 5, as well as Wednesday, December 6. As of now, Ventura County and the cities of Santa Paula and Ventura have all proclaimed local emergencies according to Ready Ventura County.