On Saturday, January 13, the Ventura High School boys varsity soccer team played their cross-town rivals, Buena High School.
The first half of the game ended with a tie, 0-0. However, during the second half of the game both teams made a goal, but neither of them counted.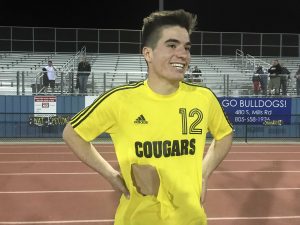 BHS made the first goal, but the player had been off sides when scoring, thus making the goal not count. VHS had made the second goal, but the player was offsides as well, leaving the score tied, 0-0.
Then junior Carlos Arriola (number eight) had received the ball and kicked it in towards junior Marcus De Los Santos (number 12). De Los Santos shot the ball into the goal, scoring the winning goal for VHS.
During the game there was some obvious tension between the two teams resulting in pushing and shoving in the middle of the field. Both other team members and referees had to step in and intervene.
After the game, junior Jason Lowell (number one) shared that "Our team worked hard, we played as a unit. Everybody trusted everybody and in the end, we came out with the W."
Sophomore David Kelley (number 10) also said, "The game could've gone better, but I mean we ended up beating Buena so that's honestly all that matters right now."