Bulldogs cross the town for a basketball showdown
Students, parents, and teachers, all packed into the Tuttle Gym to witness the game between Ventura's cross-town rivals. The bleachers were overflowing with eager students. The constant roar of voices was deafening and the rising tensions could be felt in the air.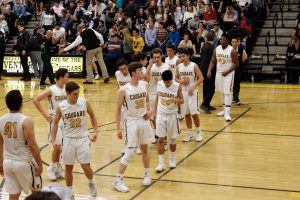 On Thursday, January 11 the Ventura High School girls basketball team faced Buena High School girls basketball team in a home match. Then on Friday, January 12 the boys' team's played against each other. These were the first of two games for the cougars against their cross-town rivals thus far.
The lady cougars beat the bulldogs with a score of 46-37 and secured a record of 11-4, with the bulldogs record dropping to 8-6. Senior Kenya Henderson led VHS with 15 points and 10 rebounds, as well as a 44 percent shooting average.
Junior Alexis Brady stated, "We played very unselfish which helped us score, and we played as a team. We had each other's backs when we needed it and I see a bright future for our team. I'm hoping we can work hard enough to win Channel League."
On Friday night, the bulldogs came out victorious over the cougars with a final score of 70-58, securing a record of 13-2. With that loss, the VHS boys varsity record falls to 5-8.
Senior Josh Edwards carried the bulldogs with 25 points, 5 assists and 3 rebounds, not to mention maintaining a 67 percent shooting average.