Cougars swim steadily past the Bulldogs
Ventura's Cougars hosted the Buena High School Bulldogs in their first league swim meet on Thursday, April 12.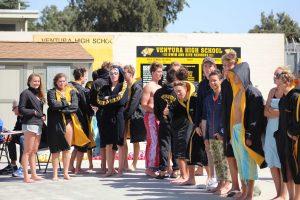 The Cougars came out victorious, for the second time against the Bulldogs this year.
Senior Justin Lum after the meet said, "I think everyone did pretty well. Buena isn't a very strong team so we usually swim off-events and even still, everyone was winning events."
Lum expected these results from the team, as they have had success against Buena in the past.
Lum believes that the Cougars will win Channel League this year: "Our big goal is to qualify the 200 medley relay for State and make finals at CIF."
As an individual, Lum has had an historic season. Early this year, at Ventura County Champs, he swam a 57.48 in the 100 breaststroke, and now holds the record at Ventura High School.
When asked about his individual goals, Lum said solely, "I'd like to make top three in 100 breaststroke at CIF."
This was the Cougars' last meet against Buena; There next meet, a league meet, is on Tuesday, April 17 against San Marcos High School.
[huge_it_slider id="30 "]