Ventura High School boys varsity volleyball falls to Dos Pueblos High School
VHS loses a match in three sets
On March 28, the VHS boys varsity volleyball lost to the Dos Pueblos High School Chargers in a best of five game with DPHS winning the first three sets. The first set had a final score of 7-25, the second set ended 14-25 and the third ended 17-25. 
Volleyball games are played in the best of five matches. The first team to reach 25 points in a set wins, unless it reaches the fifth set. In the fifth set, a team only has to reach 15 to win. The team must also have at least a two point advantage before the set can end.
Assistant Coach Edward Pacula said, "I thought [the game] was good. I thought the boys played really well. [DPHS] is a really good team and I thought the boys competed against them. … In the first game I would say [they could improve] their hitting and they did improve on that in the second and third set."
Head Coach Tim Mays said, "I thought [the team] fought valiantly against a very tough Dos Pueblos team. And I'm really proud of how they had a great time while fighting hard. We need to improve on communication … hitter coverage…serve-receive passing."
Dos Pueblos High School has a record of 16-7 and are ranked third in the Channel League and had many strong hitters. Many of DPHS' points came off of spikes that VHS was unable to make passes off of.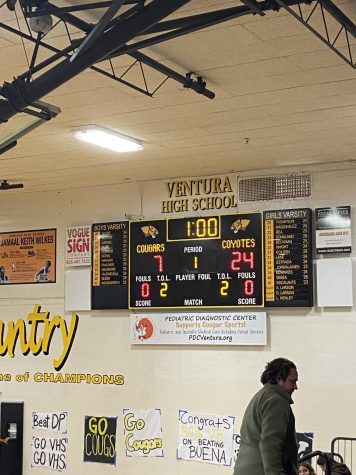 Middle blocker and defensive specialist, Max Mechtenberg '25, was in VHS' starting lineup and remained in the game for the entirety of the game. Mechtenberg has some special rituals he does to prepare for volleyball games. He said, "I listen to music and I stretch out my legs just to get warmed up."
Mechtenberg said, "We could have done better, but then again they're a good team. We don't have the talent that they do, but we could be better if we practiced harder." He said, "[I would improve on] probably acting cool and collected in times of uncertainty and stress."
After Tuesday's loss, VHS' overall record fell to 3-15. Their league record is 1-7 and they are placed seventh in the Channel League.