Ventura High School girls beach volleyball goes up against Oxnard High School
VHS defeats Oxnard High School in one fell swoop on the beach
The VHS girls beach volleyball team played at 3 p.m. on March 28 against Oxnard High School at VHS' home beach, San Pedro. There were three rounds total. Rounds one and two consisted of three separate games each and the third round consisted of just one game. There were five varsity games and two JV games in total. 
The Cougars won the whole match with a full sweep. Varsity won 5-0 and JV won 2-0. The beach volleyball team has finally been able to get into their season with these recent matches. The beginning of their season was a little rocky due to not having courts because they got washed away in the rain. 
The girls beach volleyball season officially started in February and ends in April. 
The continuous rain in Ventura has also caused the team to have to reschedule games to the end of the season because the sport can only be played outside. 
Marley Haener '23, a beach volleyball player, said, "On days where it's very windy it's kind of just a serving game. I think we did pretty good. I haven't played with my partner, [Sophia Sletten '24], the whole season so I think under the circumstances we did pretty well." 
According to Vanguard Volleyball, if the wind is strong and consistent in a certain direction, it can make it hard to control the ball on the court. The players have to properly navigate their playing around the weather.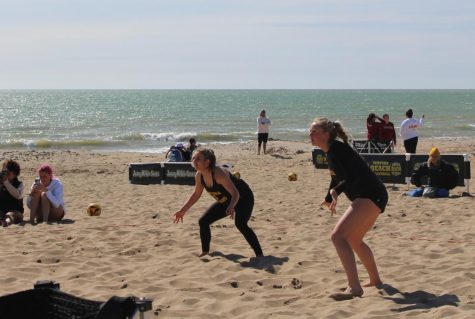 "It's really windy so [my mindset] was just focused on trying to control what we can control and letting [OHS] make their mistakes. Trying to deal with the wind is difficult but we played really well," said Lily McMahon '23, a beach volleyball player. 
Since there are three sets in one game, each winning duo needs to win at least two out of the three. If they lose one set, they still have the chance to bounce back with the next two. 
Haener said, "[After a bad set] I like to put my feet in the sand and bury them as deep as possible to focus [more] on that and forget about what just happened. I kind of reset like that."