Students during spooky season
According to an article called, "Ancient Origins of Halloween" on history.com, it's believed that Halloween, Oct. 31, is a time when magic is most potent and spirits can make contact with the physical world. It originated from the Celtic festival of Samhain, Samhain and is a celebration of the end of the harvest and the start of the coldest half of the year. At the festivals, people would light bonfires and wear costumes to ward off ghosts. The Celts, who lived in the area that is now Ireland, the United Kingdom and Northern France 2,000 years ago, believed that the dead returned to earth on Samhain. The holiday was brought to the United States from Scotland and Ireland by immigrants.
Of course, this holiday has evolved significantly over time, and the nights of Halloween in modern times usually consists of dressing up as one's favorite fictional character and walking around one's neighborhood saying "trick or treat" to receive candy.
When it comes to high school students, it can be interesting to ask what their plans are — while some feel they are 'too old' to dress up and trick or treat, some are very adamant about dressing up and having special Halloween plans.
When asked what their plans for Halloween were and or what they are going to dress up as, students had a variety of answers.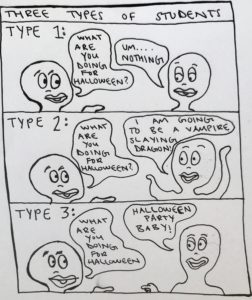 "I'm going to San Diego to visit my sister and I'm going to dress up as a devil," stated senior Paige White.
Tatum Schmidt said she wasn't sure of her costume or plans for this year, she elaborated that last year she just stayed home.
Senior Claire Ortiz has her costume figured out, stating, "I think I'm going to be Boo from Monsters Inc. I might go see Morrissey live at the Ventura Theater on Halloween."
Sophomore Eliana Medina said she will be decorating her face with a skull.
Freshman Carmen Ibarra is planning to dress up as 'Veronica Lodge' from the popular Netflix series "Riverdale," and freshman Benjamin Burchett is planning to dress up as The Joker from "The Dark Knight."
Spooky Season from Cougar Press on Vimeo.
The students were also asked how they personally believe Halloween could have begun as a holiday, but only one student came close to the definition listed above. The rest of the answers varied from children just wanting candy to a man named Jack-O-Lantern creating the holiday.