It's about TIME we change things!
Currently in the U.K., there is a shift or movement, if you wish to give it such a title of importance, to replace school analog clocks with digital clocks. This comes from the current generation, of which are the ones receiving the schooling, growing up in a digital age where access to time takes no math or counting skill, or even good eye, or really anything at all except the ability to look at a screen (of which we are apparently very good at) and read some numbers.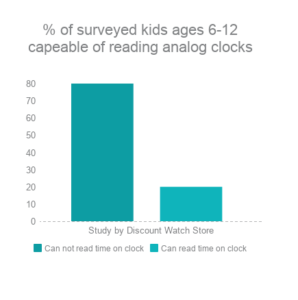 According to an article published By First For Women and the study they cite conducted by Discount watch store, only 20 percent of children surveyed ages 6-12 were able to read an analog clock whereas the other 80 percent were inapt in their ability to read from such clocks. When asked if he believes if the Ventura High School should have digital clocks in their classrooms, VHS student and junior Cody Black responded, "No, I think it's a waste of school funding, since you should just be able to read a clock in your class."
While one can obviously see this view-point and even laugh at or belittle many adolescents impotence at telling time and or dismissal of "simple," "pure" and "old fashioned" things and practices, one must also acknowledge the context of which this incapability to tell time and process many others things, without the crutch of a screen, is a result of lessened teachings on reading analog clocks.
The society we live in today is that of immense change and advancement accompanied by opposition to it. The current progressiveness and advancement as well as regressive and conservationists approaches in regards to technology, ideology, government, morality etc. all take place on one similar platform of human affairs.
Although some are greater than others, such as in the case of clocks in classrooms, all proposals or philosophies are deserving of discussion, whether it be about revision, rejection reprimand or implementation.
Such propositions, whether they seek conservation or reform, are outlandish or irrefutable, or are of the utmost urgency or objectively insignificant, should not be instinctively met with rejection without mindful consideration or be responded to and rejected by its opposition through dogma or degrading remarks, but are deserving on some level of operation or discussion, to be experimented with and explored by the people whom it would affect and who would be making the decisions in regards to it. Whether this idea acts for conservation or reform, criticism or complacency, it should be LISTENED to, simply in the spirit and for the sake of mutual prosperity and understanding.
At this point in time, the only time there is, why not start by bettering and not belittling the devices and means by which students can best tell time itself.