VHS teacher on leave after arrest for alleged sexual battery
On Dec. 30, Ventura High School German teacher David Reich was arrested for alleged sexual harassment of a 22-year-old employee at Industry Horror, a clothing store in Downtown Ventura. Reich is on administrative leave according to a Ventura Unified School District statement.
The Cougar Press reached out to Reich via email on Jan. 4 but according to the Ventura Unified Education Association, he is not allowed to have contact with anyone in the district as part of administrative leave.
According to the Ventura Police Department (VPD), Reich "approached the victim from behind and touched her inappropriately."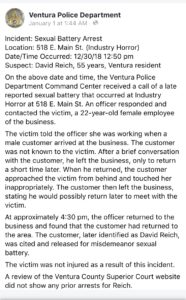 The Cougar Press contacted the victim, and she agreed to an interview. However, for the victim's safety, the VPD has insisted that her name be omitted from any publications for the time being. Because of this stipulation, the victim will be addressed by the pseudonym "Jill Thompson."
On Sunday, Dec. 30, around mid-morning, Thompson was working her shift at Industry Horror, doing some light cleaning to prepare for the afternoon's customers. She was washing the store's outer windows, when she noticed Reich approaching the establishment.
According to Thompson, Reich "set off red flags almost immediately" before he spoke to her. She explained, "I knew he was a creep from the start because he was watching me wash the outside windows" and that he approached her when she was bent over.
Thompson recalled their first meeting.
"He came up from behind me when I was cleaning the windows outside the store and asked, 'Hey you new here?' I said yes, and explained that we opened in May. He then asked if he could go in the store. I said, 'Of course, just go in and I'll be right behind you'. He said, 'Oh no, go first please.'"
Thompson presumed that Reich let her enter the store first so that he could stare at her butt.
"I had mentioned our store exists to employ autistic adults," she recalled, "and he said, 'You don't look like [you're] on the spectrum.' To that I responded, 'I'm not, but I have severe learning disabilities' and he seemed to get excited about that."
Thompson said, "He then went on a tangent about how he worked with disabled people at some facility in Goleta and how it was a famous place because it help[ed] with [the movie,] 'Rain Man.' I honestly thought he was lying when he said that. He just wanted to sound impressive so he said he has experience working with people that have disabilities."
The two conversed up until Reich left the store. He returned to the store shortly after he left, at which point the "inappropriate touching" allegedly took place.
Immediately after, according to Thompson, Reich said to her: "I know this might be weird because of the age difference between us, but I like you."
After hearing that Reich is a teacher, what he said took on a whole new meaning for Thompson.
"My heart sunk," Thompson said. "I got filled with rage. Rage knowing that he works with minors. People who he's supposed to keep safe. I was furious and scared that he has [assaulted] or will assault a minor."
Thompson said that after the alleged assault, he just kept talking to her "like nothing happened."
Thompson said that Reich asked her out on a date, which she states she agreed to in an effort to get him to leave. Reich made a purchase and left the store, after which Thompson confided in her boss, who called the police.
The police arrived shortly after, and Reich was identified by footage from Industry Horror's security cameras. When he returned to the area later, Reich was recognized by police, arrested and given a citation for sexual battery.
Reich was released after a few hours but will be summoned to court where he will plead for his case on an unknown date.
Thompson is confident that Reich will be found guilty in court because of the video evidence against him. She stated, "[At first,] I regretted [reporting him] but after I found out he was a teacher, I was glad I did."
Some VHS students were surprised after hearing about Reich's arrest. Senior German student Zakhar Gazizov stated that he was "shocked since my family is close to him."
Freshman Joseph Lombardo said, "I mean he was kinda 'sus' [suspicious] sometimes and he was a little bit socially awkward I feel, but I never got a vibe [that] he was going to do anything like this."
Other students weren't as shocked. Junior India Hill, a former German student of two years, explained: "[I] had gotten a sort of 'warning' about [Reich] at the beginning of my freshman year by a student of his many many years about him making inappropriate comments to her on her last day of school so I was always cautious around him from that."
Hill continued saying that Reich was "a bit creepy to say the least" and that "at one point he asked a freshman student to describe her ideal man." Hill filed a complaint regarding a grading issue that she said was "somewhat resolved."
Reich was cited for Misdemeanor Sexual Battery, which, according to RAINN (Rape Abuse and Incest National Network), "the nation's largest anti-sexual violence organization," is punishable by prison time in county jail not exceeding 6 months and a fine not exceeding $2,000.
Senior and four year German student, Gabe Litcomb was "shocked" after hearing about his arrest, stating: "I still don't know what to think. Reich is not crazy like everyone states. I do not believe he is a pervert like some students claim. Maybe it's a side I do not know."
Referencing jokes and memes being posted about the arrest on social media, Litcomb stated, "It isn't funny to joke about something jeopardizing someone's life and [career]. I take it quite personally because he is my friend. People make mistakes. I am a forgiving person. I see the good within many people, and if he messed up, then so be it. It isn't for others to make fun of."
On Jan. 5, six days after Reich was arrested, the Ventura Unified School District released the following statement: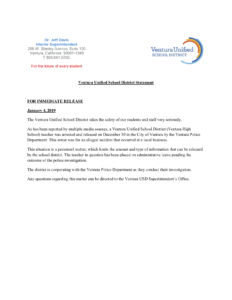 To contact the VUSD with any questions, comments, or complaints, call (805) 641-5000 or visit the District Office in Suite 100 at 255 W. Stanley Ave.
If you or a loved one has been sexually abused, call RAINN's sexual abuse hotline to talk to a specialist for support, information, advice, or a referral. Calls are free, available 24/7 and are 100 percent confidential.
For support at school, visit Bobbie Richards at the SAP (Student Assistance Program) office in room 41, which is between the 1st floor entrance to the Music Department and the window to the Attendance Office.
This is a developing story and will be updated with more information.