Protesters, gun show attendees spend Saturday at the fairgrounds
Venturans attended the Crossroads of the West gun show at the Ventura County Fairgrounds on Saturday, May 4. Venturans opposed to holding gun shows on public property – the fairgrounds are state-owned – showed up to protest the show.
Protesters from groups like Veterans for Peace and Brady United held signs with the names of the victims of the Borderline Bar and Grill shooting, where a veteran with PTSD opened fire and killed 12 people.
In the gun show, attendees – some with children – browsed booths selling guns, ammunition, accessories, and other gear.
Debate over whether the County Fairgrounds should host gun shows like Crossroads of the West, which, per the Ventura County Star, historically "[takes] place four or five times per year and have for more than a decade," predates this protest.
After the Borderline shooting, the fairgrounds' Board of Directors decided in November to schedule two gun shows for 2019 in a 5-2 vote; according to the Ventura County Star, "work on a policy that governs gun shows or, less likely, bans them altogether, will continue well into next year."
The California State Assembly passed a bill banning guns and ammunition sales in San Diego County's Del Mar State Fairgrounds this April, per the Associated Press.
The governing board of Cow Palace in Daly City, another state-owned space, voted to end gun shows on the property after 2019, according to the San Francisco Chronicle.
"As far as the fair board, they decided to move the discussion of gun show policy to a two person ad hoc committee, which is only two people, has no public oversight, does not meet in public, so any discussions about gun show policy [have been] behind closed doors," said Troy Corley, an activist who organized NeverAgainCA – Ventura, the movement advocating against gun shows at the fairgrounds.
"We're trying to get them to stop that and come out in public," said Corley.
Listen to Corley's full interview here.
"The amount of people supporting us has simply grown. We have over 3000 [people] who have signed our petition to stop gun shows at the fairgrounds, said Corley. "2900 online, and about [a] couple hundred that were on a hard copy petition."
"We really need to show the fair board that their constituents are not all pro-gun shows, " said Gracie Pekrul, a high school junior who leads March For Our Lives Ventura County.
"We need to show up, we need to show them that we're here and we oppose this and we deserve to be listened to and the goal is to really show by showing up what we believe in," said Pekrul.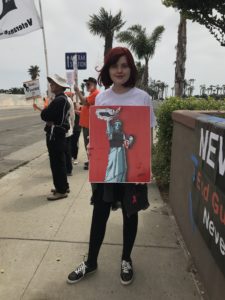 Beth Mansfield, mother of National Association of Students Against Gun Violence member Grace Mansfield, said that she had no problem with gun owners: "We really shouldn't be going after, we don't need to be going after gun owners who are law-abiding, who follow good safety rules, but we really do need to say to the fair board that we don't want gun shows on our state-owned property."
Inside Crossroads of the West, the view was different.
"I think if you're going to say that due to violence and something in a certain industry or due to death or tragedy in [a] certain industry, a show or event in that industry should not be allowed then I would think in the same note there's also the raceway here right?" said Ben Sherburne, behind the table at Zebra Supply, a company selling firearm accessories.  
"There's a lot of injury involved around vehicles, around many other industries, and yet car shows are allowed to go on, no problem, there's no [restrictions] that are impeded on them."
Sherburne, a gun owner himself, said that education is key for gun safety.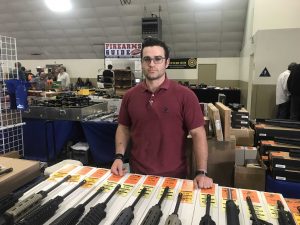 Listen to the full interview with Sherburne here.
The next county fair board meeting is Tuesday, May 28 at 9:00 a.m. "They may have a separate meeting regarding this issue because at one point we had like a hundred people show up of both sides," said Corley.
Mansfield said that if students "can get a note from [their] parents, we would love to have students come and tell the fair board why they don't want gun shows on our state-owned property."