VHS students share their fashionable international travels and favorite summer trends.
Apart from being able to soak in the sun all day, summer fashion is a major reason why many look forward to enjoying their summer break. As students begin to embark on vacations, they note that other countries are also excited to showcase their take on seasonal fashion.
VHS Alumni Mishel Tachet celebrated her nineteenth birthday by flying to Greece. Always on the lookout for artistic forms of expression, Tachet observed how Greek fashion varied, saying that, "Most of the locals in Athens wore casual, loose-fitting clothing including t-shirts and pants. On Oia, one of the islands, the attire seemed more extravagant and expensive. There was an abundance of float pants, long dresses, see-through garments, and lots of jewelry."
When asked to describe any differences between Greek and SoCal style, Tachet stated that in Greece, "most women dressed in loose-fitting garments and flowy dresses; In Ventura, you see more boyish thrifted clothes, usually with looser pants and tighter tops." Tachet also mentioned how enjoyable the style culture in Oia was, remembering, in particular, a woman wearing a long, sparkly slip dress with plenty of dainty jewelry to compliment it.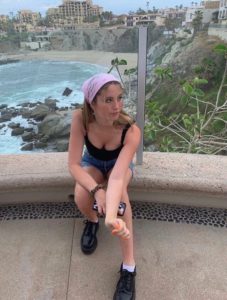 Junior Lizzy Velthoen traveled out of the country as well, spending part of her summer in Cabo San Lucas, Mexico. Appreciating everything that Mexico has to offer, Velthoen expressed that, "there was an abundance of shorts and tank tops. It is much hotter there in Mexico during the summer, so unlike Ventura, you can't just dress however you'd like, because you have to consider the weather".
Velthoen also shared some of her favorite style trends this summer, which included flowy skirts and using bandanas as hair accessories. "My typical summer outfit was a dress, bandana, and my Doc Martens" commented Velthoen. All in all, a very style-filled summer indeed.