That's a wrap, girls tennis!
Girls tennis ends their season on a positive note in their first CIF game of the season
[dropcap size=small]O[/dropcap]n Wednesday, Nov. 6, Ventura High School's girls tennis team had their first CIF match of the season against Bishop Montgomery High School in Torrance, CA.
Ventura expected the match to be a tough one, since Bishop Montgomery was a very high ranking school and had previously won sectional championships, according to Senior Nikki Escamillo.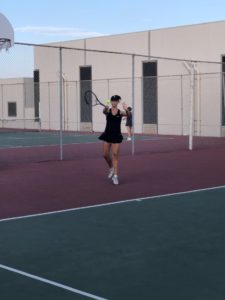 Although hard fought, Ventura fell short with a final score of 7-11, with Bishop proceeding to the next round of CIF.
Despite the fact that Ventura lost the match, the team held their heads up high and shared positive feedback for next year, according to Escamillo. "Although the team is losing 6 seniors this year, next year the team will gain some experienced players who will work under the leadership of Coach Tracie. Ventura High is very fortunate to have a coach like her." 
In a season-in-review, Escamillo expressed that "Pacifica gave [them] the biggest challenge" this year. Escamillo concluded that her teammates and coaches were, "the best part of playing on the tennis team. I really am lucky to be on a team with such fun and supportive girls… however at the same time I'm sad that this is the end of my high school tennis experience."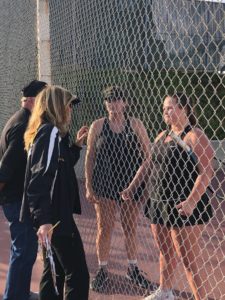 French foreign exchange student junior Jeanne Florentin also added that "This team is like a family to me. I met the best people and had so much fun, especially when we had an away match."
"I joined tennis because I played tennis [back in France]," continued Florentin. "I think it's very important to meet people and be in a sport because you share the same love for the sport."
Due to the loss in the CIF Match, the girls season has come to an end. Looking for more CIF events? Varsity football and varsity boys waterpolo have moved on to the next round of CIF, football playing at Home Nov. 15 at 7 p.m.