This year marks the first ever season of girls flag football at VHS
For years, BHS and VHS have competed against each other at the annual "powderpuff" girls flag football game. This event takes place once a year and attracts many fans. However, this year, girls flag football has made its debut as an official CIF sport. 
"It's gotten a lot more, like, intense, and I think people take it a lot more seriously now than they did for powderpuff," said running back Danika Simpson '26.
The VHS girls flag football team is currently 2-3 in league, and 6-6 overall. "We went on a little bit of a downhill streak, but we've been doing better," said rusher Isabel Quiroz '27. "The beginning [of the season] was really fun until we lost four games in a row. But, we broke the streak [on Sept.19] and we beat Simi Valley," said Simpson.
"[There are] no CIF playoffs this year. But we are hoping to be good enough to be invited to the 1st County Tournament. The top teams from each county's league will be asked to participate, and be the County's first champion," said coach Frank Jordan.
"The team is doing well, we have a true [diversity] of athletes coming together to play a very fun sport," said Jordan. Despite being its first year at VHS, flag football has quickly grown into a competitive sport. "The girls on our team had bruises from the games. It's really aggressive out there," said Simpson.  
 "I wanted to join football because I never tried anything like it before," said Simpson.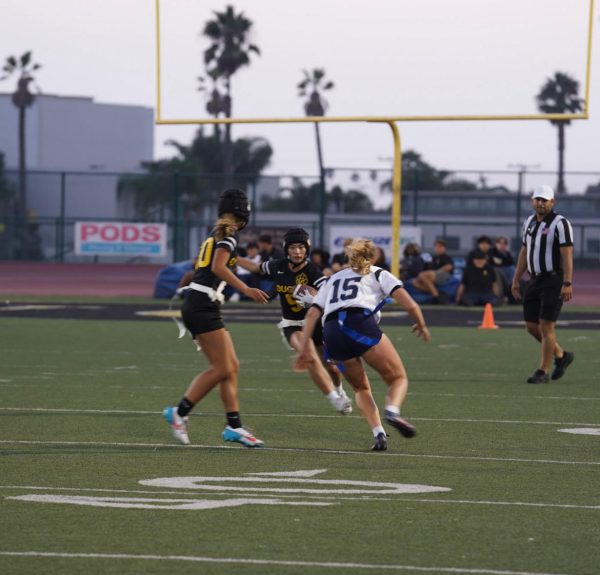 "I love the game of football. It changed my life, and when I have the chance to teach it or coach football, I will jump at the opportunity," said Jordan.  
A CIF flag football team must consist of at least seven players. The rules of flag football are fairly similar to the rules of standard football, the most obvious difference being tackling versus pulling flags. "The biggest one [difference between flag football and tackle football] is that you're not allowed to tackle people. And we don't wear any gear and our fields are smaller," said Quiroz.
Simpson said, "It's an honor [to play on the first flag football team]. I feel really cool and I think more people should join." 
"It is an honor and a privilege. I feel blessed and thankful for such a great opportunity [to coach]," said Jordan.