Are you still gobblin' da turkey?
Eating turkey for Thanksgiving: a less than saucy tradition
[dropcap size=small]T[/dropcap]hanksgiving, a holiday observed by the United States is usually a day of sitting down with family and filling your stomach full of food, including turkey…unless?
As a new generation arises, tradition evolves. Our present culture has turned the focus of Thanksgiving more to feasting, football, family gathering, and a day free of school or homework. So, do students at VHS eat turkey for Thanksgiving anymore?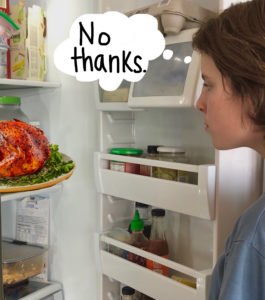 Junior Stella Feingold is among the students that don't eat turkey on Thanksgiving. Feingold stated that she doesn't like turkey and it's, "Kind of meaningless, we could replace it with something else that's healthier, but eat turkey if you want, I don't care."
On Thanksgiving, Feingold normally eats stuffing, mashed potatoes and garlic green beans.
When asked the question if eating turkey is a significant tradition, freshman Hannah Marie stated that, "Yes, I love turkey, I don't remember a Thanksgiving without it."
Marie continued to explain,"I mean, come on, you've got to have turkey for Thanksgiving. It's the one thing I look forward to."
Senior India Hill shared what she does during Thanksgiving. Hill, although vegetarian, does eat most of the typical Thanksgiving foods and affirmed that mashed potatoes are her favorite.
Regarding the tradition of eating turkey, Hill stated that, "I don't have anything against the turkey tradition in particular, but I do think limiting meat consumption is one of the most valuable ways we can help our environment."
Eating meat products, like turkey, take up a lot of resources. Millions of gallons of water are needed to grow grain to feed the turkeys. Not only that, but the meat industry's treatment of animals like turkeys is often brutal. Factory farms leave little space for the animals to move in to increase profits.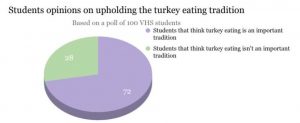 Hill attends family festivities such as Thanksgiving but stated that, "I don't think [Thanksgiving] is a tradition I will carry on with my own family in the future." Hill continued to elaborate why, "Many people fail to acknowledge the violent history behind Thanksgiving, and I feel that to show support to my ancestors and all Native Americans, we must [recognize] that the holiday has its roots in the genocide and abuse of Native people."
Thanksgiving has been the cause of some controversy over the years. Similar to Columbus Day, Thanksgiving has become a day of mourning rather than giving thanks, a day of remembering the genocide of American Indian ancestors by colonists. This should not cause guilt but instead, be remembered as the holiday approaches.
If you decide to spice up the old turkey eating tradition when Thanksgiving approaches, there are many excellent recipes for tofu or turkey alternatives on the internet. Or you could just stick with the conventional turkey. The choice is yours!