Girls volleyball serves up victory after victory
Ventura High School's girls volleyball is currently ranked 62nd in the state out of 1,305 teams and, as of September 28, girls varsity has an overall record of 15-5 and a league record of 3-1.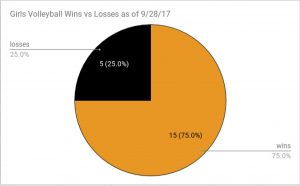 The season began on August 31 with a 3-1 win against Oak Park High School. The team faced their first loss of the season on September 5 against La Reina High School, 3-1, which was followed by a 3-0 win on September 6 against Thousand Oaks High School.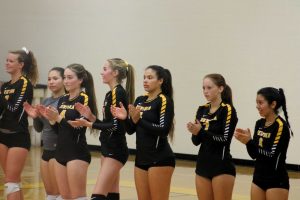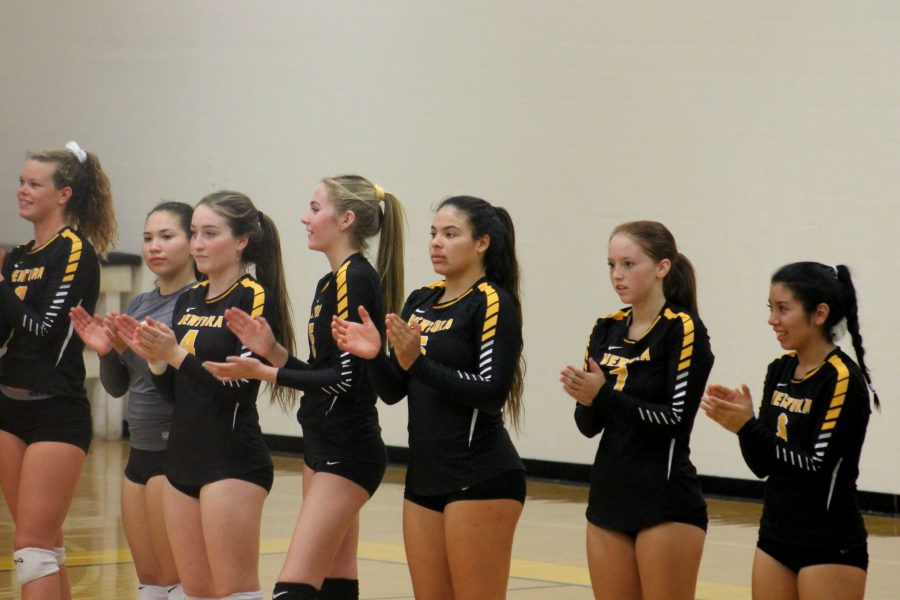 Asked how this season compared with previous seasons, senior Joli Ruby said: "The record [is] pretty good. Normally our winning [is] a lot higher than our losing, so it's consistent… Last year I think it was 39-3."
On Friday September 8 and Saturday September 9, VHS competed in the San Luis Obispo varsity tournament.
Friday, VHS went undefeated, beating Arroyo Grande High School 2-0, Clovis East High School 2-1 and Immanuel High School 2-0.
The following day, VHS lost to Buchanan High School 2-1 and Clovis North High School 2-0, but recovered, beating both Frontier and San Marcos High School 2-0.
"We've been [in the] top five in every tournament so far," said Ruby.
VHS then won their next three games: Rio Mesa High School 3-0 on September 12, Santa Barbara High School 3-0 on September 14, and Buena High School 3-0 on September 19.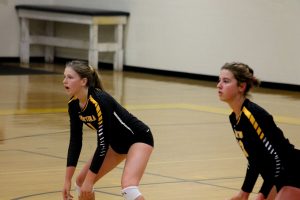 "I think our Buena game was our high point of the season," said freshman Nevada Knowles, who had a hitting percentage of 0.474% at that game, in comparison to the national average of 0.1%.
"That was probably the best we've ever played as a team," Knowles added.
Following the Buena game, VHS suffered a narrow loss of 3-2 against Louisville High School on September 21.
However, the Cougars came back at the Varsity Royal tournament just two days later September 23, winning all four of their games: Atascadero High School 2-0, Granada High School 2-1, Hart High School 2-1 and Simi Valley High School 2-1.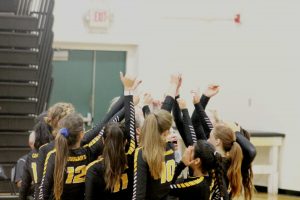 " [In] the [Varsity Royal] tournament we got first place. That was an accomplishment. That was pretty cool," said junior Miranda Unzueta.
VHS then played San Marcos again on September 26 and lost 3-2, marking their only Channel League loss. "Our lowest point was probably [Tuesday] night. The loss against San Marcos was hard…It took us to five [games]," Ruby said.
Two days later, however, VHS played Dos Pueblos on September 28 and won 3-1.
When asked about challenges the team has faced so far this year, Ruby said: "We've built our reputation up so high that this year people expect [big things] of us and so I feel like that's part of what we carry… Last year we did so well that, like, a lot of teams knew us and wanted to beat us or wanted to play us. So going into this year, we had targets on our back, because everyone wanted to have a win against us."
VHS girls varsity volleyball will play their next game on Thursday, October 5 against Santa Barbara.