One year since Borderline: The community continues to move forward, working hard to never forget
Nov. 7 officially marked one year since an active shooter entered Borderline Bar and Grill in Thousand Oaks, and took the lives of twelve people, injuring several others. Among the deceased were a bar security guard, a veteran cop and a Navy veteran who had survived the Las Vegas shooting a year prior.
Since then, friends, family and the community have come together to honor the memories of those who entered the bar for a lively college night, but never returned home.
"I think…we need to band together as a community and take a step back and just realize we're all humans, and that we need to heal together. In the future, we need to educate each other on mental health issues so it doesn't happen again," said junior Grace Mansfield, vice president of the VHS club, Students Against Gun Violence.
To date, the restaurant and bar remains closed. On the scene of its former activity, a memorial stands with 12 crosses placed at the building's head, covered in flowers, portraits, flags, stuffed animals and other keepsakes with the hope that the twelve victims will never be forgotten.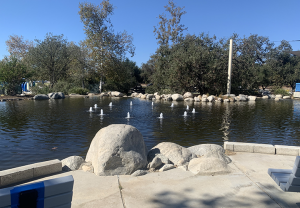 One way the community intends to cherish these memories is with Thousand Oaks Remembers, at thousandoaksremembers.com, a website that gives a place for friends and family of the victims to begin the healing process. "It is the hope of this project to provide a space for people to share these stories that are being carried…primarily for the healing of individuals and the community as a whole. We do this through providing multiple places for people to share their stories including space for verbal story sharing, written stories, as well as a larger community event on the one-year anniversary," the website says.
To honor Sheriff Sgt. Ronald Helus whose life was taken as he entered the bar to respond to the call that shots were fired, the city dedicated a portion of the 101 freeway in Thousand Oaks to his remembrance, called the Ventura County Sheriff Sergeant Ronald Lee Helus Memorial Highway.
On a physical scale, the largest and thus far most complex memorial was constructed by the city of Thousand Oaks in just under a year. On Nov. 7, 2019, the city, the Conejo Recreation and Park District and the Ventura County Sheriff's Office held a dedication ceremony for the Healing Garden. It's location: the Lakeside Pavilion at Conejo Creek North, 1379 E Janss Road, Thousand Oaks. Some details of the garden include 12 granite benches, 12 boulders and 12 bubbling water jets. Also featured on the memorial's site are two plaques bearing the names of each victim, along with a dedication.
The intent of the garden is to create a place for the victims' families to come together. According to the Conejo Recreation and Park District, it is "a place to pause, reflect, and heal."
AP English and ERWC English teacher, Erin Jones, was in close proximity to a school shooting a number of years ago while teaching at Santana High School. When asked about how students and teachers handle the emotions that come with such an experience, Jones said, "I think people deal with it in different ways, so part of you has to compartmentalize things…when it happened at Santana High School, my old high school–we had students write about it and write about their fears and some of them…knew students at the school. A lot of times teachers will bring it up, which sometimes is good and sometimes we just want to kind of get back to normal, but it's not really normal. I don't think there's a right way to deal with it, everyone deals with issues differently, and some people need to–sometimes I need to think about it and digest before I bring it up with the class."