'Tis the season to grab a blanket and watch "The Santa Clause"
 Every other Christmas movie is inferior and that's just facts
[dropcap size=small]o[/dropcap]nce Thanksgiving ends, the festive spirit grows, just like the Grinch's heart did on Christmas day. Holiday lights go up and families that go all out, make a trip to purchase yet another light-up inflatable Santa Claus. Kids and young teens narrow their Christmas lists from 10 items to a solid 2 or 3. Christmas movies are among the many things that add to the essence of Christmas. Nothing hits the spot better than being wrapped up in blankets holding a hearty cup of hot chocolate in front of the TV.
"The Santa Clause" is simply the best, cheerful Christmas movie. Why? Well, none of it's competitors really catch the Christmas vibe as effectively.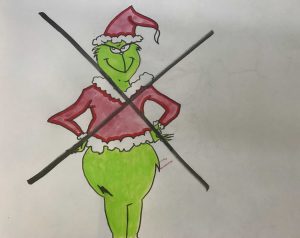 "How the Grinch Stole Christmas" was exceptional until I was forced to try to erase the scarring image of the Grinch without any clothes on for the remainder of the movie during his whole, "But what would I wear" scene. I'm pretty sure I was internally yelling at him to pick something quicker since his options were a skirt that he claimed was a kilt. His dog, Max, deserved so much better. 
"It's a Wonderful Life", although a classic, is more of a learning experience than a cheery movie. I don't get that fuzzy, warm feeling in my heart when I watch it. Senior Sally Neibergall shared that her favorite holiday movie to watch as Christmas nears is "It's a Wonderful Life".
"The Polar Express" seemed like a great movie I would never get tired of when I was 5 years old, but upon rewatching it a couple years later, the computer generated eyes of the people aboard the train became what my nightmares revolve around. Junior Sydney Long is one of the students at Ventura High whose favorite movie is "The Polar Express". Long shared that "The Polar Express reminds of when I was younger, [watching] it makes me feel warm and nostalgic." 
The feelings you get during "The Santa Clause" scene with the previous Santa Claus falling off the roof is parallel to none. As a kid and young adult, there remains no more significant moment in movie history. The anticipation that builds up as Scott, the soon to-be Santa, skeptically approaches the Santa that fell off the roof is so sensational and sets up the movie perfectly with comedic elements. The head elf, Bernard, is such a key element to the movie. Not only does he inform Scott of his new duties as Santa Claus and sees that he follows through, but he does it with such class and sass that it's near impossible to not love him for the sarcastic, curly haired elf that he is. 
There's a reason why "The Santa Clause"  sequels don't compare to the first. For starters, "The Santa Clause 2" is absolutely horrific. A fake mechanical doll Santa takes over? The vibe of the whole movie was so off. I'm still trying to figure out how it would be possible that not a single elf would come up with the idea of submerging the doll Santa under freezing water. That would have saved me from the dull ending.         
"The Santa Clause 3: The Escape Clause", although significantly less traumatizing, is just too predictable. Obviously, someone was running out of ideas. A plot too familiar, Jack Frost, the neglected character during holidays, becomes bitter and wants a taste of what it would be like to be a more recognized member of society. As if that boring plot wasn't enough, my favorite elf Bernard wasn't even in the third movie. If Bernard's not in it, I don't want to see it.