A snapshot into VHS's Digital Photography class
Ventura High School offers a wide selection of elective classes, that either qualify as a fine or an applied art. Digital Photography is one class available for students to take that falls into both categories and is taught by Lauren Minadeo in room 20.
The class teaches students how to take professional photographs, and how to edit the photos using Adobe Photoshop. The class outlines what constitutes a good photograph, how to approach a scene with a camera, how to capture that scene and how to manipulate objects and perspective to make the photo more appealing.
The first topic the class discusses is whether or not photography is an art. Minadeo said that, "[Digital Photography] is an art because the photos that [professional photographers] take aren't the photos your aunt takes at the dinner table."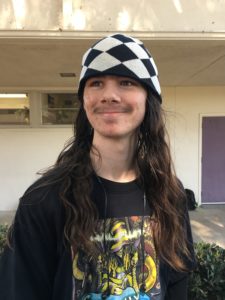 Minadeo continued by saying that professional photographers put a lot of time and planning into taking one really good photo, instead of many okay photos.
Once the class starts to settle in, the students are assigned three photos every week that revolve around a central topic or aspect of photography, including textures, point of views, lines, etc.
The other major assignment in the class is their Photoshop assignments. The Photoshop assignments serve as an introduction to Photoshop, in order to teach students how to use the tools that it provides.
Senior Samuel Meister said, "I just don't think it's a needed class, like if you want to learn Photoshop or how to take photos you can learn it at home. I'm not saying you should get rid of it, I'm just saying you don't need it. You can take whatever class you want," Meister added.
Most students who have taken, are taking or have never taken the class said that digital photography sounded like an "easy A" class. However, when asked 54.9% of students who took the class said that the Photoshop lessons were tedious.