Club feature: The Safe Space Club helps students find their safe space
The Safe Space Club recently joined the VHS club scene
The Safe Space Club is a place where students can go and talk about anything; whether it be about their personal life, anything that has been on their mind lately, things that have been stressing them out, etc. The leaders of the club are Ari Goulette '23, Malekhy Balam '23 and Jenna Plunkett '23. 
Plunkett said, "We felt like a lot of people had nowhere to go to talk to someone about their mental health and we wanted to help, we pretty much started this month. [In the club] we have different questions that we ask everyone and they [have the option to] answer. We talk about our thoughts and feelings and try to relate to one another and validate each other's feelings. I joined [this club] because mental health is something I am very passionate about." During the 2021-2022 school year, the Safe Space Club met every Monday during lunch in room 101 with the English teacher Wendy Lawton (its advisor).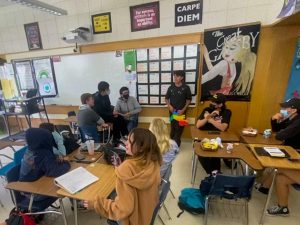 Bruce Sheldon '23 said, "I joined the club because my friend told me about it and it seemed like a place where we could get to see friends, meet new ones, and be able to talk about my feelings. I like how it's relaxed yet serious at the same time. Even though we all share very personal things that can get deep, the atmosphere is always very light and welcoming. It makes you feel comfortable and heard which is something that you don't get too often in school. I feel pretty safe talking about my problems in the club. Nobody there would put me down or belittle me for my problems no matter how insignificant they can be because we all go through similar things, obviously there are some problems we all have that can't necessarily be discussed at school but are still really big issues and I wish we could share those."
The Safe Space Club has a "talking stick" which is a unicorn pop-it. Whoever has the "talking stick" can talk, but the people who don't will have to listen to the person who is sharing what they would like to share. This way, everyone in the club has the chance to talk. The leaders of the club have different types of questions at every meeting and they share in circles. Students do have the option to skip the question if they do not feel comfortable answering it. 
Adrian Herrera '24, another member of the safe space club, said, "I am friends with one of the leaders (Malekhy) and he told me that I should join, so I did. [I joined this club] mainly [to] support [my friends]. I like the people [here], it is just a cool space to be in. I feel safe talking about my problems in the club because everyone there is very friendly and I feel like whatever I say will actually stay in that room."