Cougars shrug off recent scorpion sting
Varsity girls soccer is defeated against Camarillo High School in a close game, ending 0-1
The varsity girls soccer team put on their game faces for a dual against Camarillo High School on Wednesday, Dec. 2. Right from the kickoff, the cougars were the dominant team. Keeping the ball on Camarillo's side of the field, numerous shots were made by the senior offender Alyssa Cornwell (number 6). The majority of ball control was maintained by senior Micaela Placencia (number 10) and it remained that way for the first ten minutes.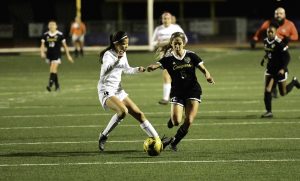 As the first half carried on, Camarillo gained control, taking three solid shots on the Ventura goal. All were blocked by senior goalkeeper Kambria Haughton (number 1) who, in the 2018 State Championships, saved the girls soccer team from losing in the shutout round. The cougars fought hard on both the offensive and defensive sides, keeping the score tied at 0-0.
In the second half, the dominating force was split evenly between Ventura and Camarillo. Several shots at goal were made from both sides and aggressive moves were made by all. Both sides were eager for a goal, but Camarillo scored one first. Scoring a goal in the last remaining minutes of the game, Camarillo took control. Ventura fought hard in the last moments of the game, but did not have the time to change the score in their favor. From start to finish, the game was very close, Camarillo going home with the win.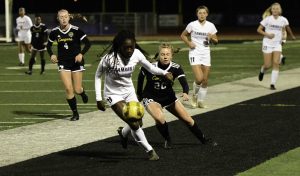 Junior Lizbeth Ramirez (number 15) commented on how the team played against Camarillo, "Honestly, I think we gave it our whole body and our whole soul in this game. We played really well, we won a lot of 50/50 balls, we were at it even though we were one down but we kept at it and we were determined enough to just go through the whole game." Ramirez also talked about how the season is going for the team so far and what the future entails and said, "Well, right now we obviously have two losses but I think after this game, we might reflect and we might just execute the next game and learn from our mistakes." Although they lost, the cougars still have a long season in front of them.