Doris Ryder "Rydes" off into the Sunset of Retirement
VHS administrative assistant retires after 33 years at Ventura Unified School District
Ventura High School office administrators are starting off the new year with one less colleague, third level Administrative Assistant, Doris Ryder, who has officially retired from her position at Ventura High School as of Dec. 20, 2019.
Ryder was a classified employee in Ventura Unified School District for a total of 33 years. Though many students may not have known Ryder personally, she held a lot of power at VHS in terms of running the main office, taking care of purchase orders, doing administrative paperwork, and even organizing seating arrangements for the senior graduation ceremony.
In addition to her dedication to the academics of VHS, Ryder also showed immense cougar pride. Her office was adorned with black and gold paraphernalia and she often helped out at football games.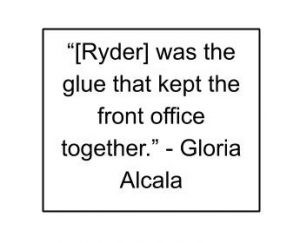 Ryder's peers only had positive things to recount about her. Library technician, Gloria Alcala, has known Ryder since the beginning of her time working at VHS. They are close friends outside of the campus and frequently bond over their daughters who graduated from VHS together.
Alcala expressed, "I was surprised, and I'm sad that [Ryder] left," and added that she found out about Ryder's retirement the Saturday after her last day. This goes to show Ryder's private and soft spoken personality, as stated by Alcala, which seems to be one of the main reasons why many students are unaware of all of the work she has done for VHS.
Principal Carlos Cohen, who was only one of the many principals Ryder has worked very closely with, described her as "very traditional, discreet, and professional."
Her diligence was demonstrated in her prompt arrival to school each morning at 6:30 a.m., and her assurance that no office responsibility was left undone.
Over the years, Ryder took on many tasks that would typically require a myriad of other workers in different positions, such as a Dean or Assistant Principal, to balance the workload. Alcala remarked, "[Ryder] was the glue that kept the front office together," as she was responsible for making a great number of administrative decisions within the main office.
Cohen explained, "Once she told me she was retiring we started working towards getting a long term substitute who had experience in that position, we are also looking to hire someone new." He wishes to eventually hire new positions to take on the tasks that Ryder undertook in order to keep the Main Office organized.
Due to her retirement, Ryder has yet to respond to our request for an interview. She is, however, described by Alcala as "an exceptional woman" who will be missed dearly at VHS.