Are VHS diplomas at risk?
On-site WASC evaluation in March determines VHS's re-accreditation.
During the week of Mar. 23, Ventura High School will be undergoing an evaluation by the Accrediting Commission for Schools Western Association for Schools and Colleges, also known as the ACS WASC, or WASC. If VHS does not meet their criteria during this evaluation, student diplomas could lose their prestige and the school's reputation could be at stake.
According to their website, WASC is in charge of "foster[ing] excellence in elementary, secondary, adult and postsecondary institutions." WASC encourages school improvement through an evaluation every six years and grants accreditation to schools that meet an "acceptable level of quality in accordance with the established criteria."
Accreditation is a type of quality assurance that ensures a school's quality of education and continuous self-improvement. Without accreditation, diplomas are still given, but lose their merit and schools receive less government funding. Not all schools are granted the title of accreditation, so it is favorable for a student to attend an accredited school as potential employers and universities will take that into consideration. 
The process under WASC consists of multiple steps of in-depth assessment in order to assure that only commendable schools are accredited. VHS has completed the lengthy process of self-assessment, which, as English teacher James Locher explained is "basically, a book," which is over 200 pages long and "has chapters on all different parts of the school … Teachers are assigned to different groups to work on those different chapters, and then we trade them around." Not much is left for the school to do other than "sprucing up its campus and finalizing the details of the actual visit," stated VHS language teacher, Sebastian Declerck. 
That's not to say that Ventura is completely in the clear, the on-site evaluation is a major component of the assessment that could make or break VHS's application. In fact, in June of 2019, WASC threatened Camarillo High school's accreditation due to dated instructional strategies and lack of communication between teachers and administration. This caused the on-site visit to prove their self-evaluation as, according to an article by the Camarillo Acorn, largely incomplete and inaccurate.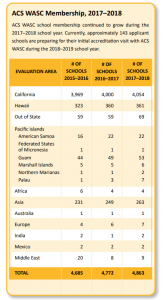 The upcoming on-site visit is VHS's chance to prove all of the written statements in its self-evaluation to be true. The WASC evaluators will be talking to 'stakeholders,' meaning teachers, parents, admin and students mainly regarding VHS's administration, instruction, curriculum, assessment, school culture and ability to meet the goals set in the report from six years ago.
Locher explained, "In the document, you write a summary but you're also supposed to provide examples and evidence, so the visiting committee will want to see examples of that evidence in action. So if we say something like 'we do labs' or 'we do Socratic seminars' they would want to go in the classrooms and see that sort of stuff happening." 
Students are also involved in the process and many teachers have been asked to have their students complete a brief survey answering questions relevant to the parameters of the assessment. Student opinions prove to be important as one of Camarillo High's weak points was that "the consensus of the students was that up to a third of teachers didn't try in their lessons." 
The Cougar Press administered a poll on our Instagram account asking VHS students a similar question. The results showed that, out of a survey of 105 students, 50.5 percent said they feel that most teachers do not try during their lessons. While this statistic does not represent the sentiments of the entire VHS student body as a whole, it does give a glimpse of how the school might do in WASC's student interviews.
When asked how he felt the school would perform during the evaluation in March, Locher stated that he did not want to comment.
DeClerck elaborated that "how we do this spring depends entirely on the nature of the visiting team that we have. Some teams are strict and look for details and try to 'catch' us not doing something we said we were doing, or doing something that we did not say we were doing. Some teams just want to make sure that the school is running smoothly and that students are learning. It is an extremely difficult thing to predict."
If the school does fail to meet the required criteria during the on-site visit, DeClerck explained, "The worst thing than can happen is that the team will not think our students are sufficiently learning and they will return in a year for another 3-day visit to see if we have addressed their concerns."
If at that point the school does not do well on the re-visit, the school risks getting its accreditation taken away thus making all diplomas given after that point invalid. While this sounds quite threatening to the school's reputation, this does not happen very frequently, the most recent occasion being at San Francisco City College in 2012. This means that the chances of VHS losing its accreditation are slim.
As March approaches, preparation to demonstrate an efficient working environment continues for teachers and students alike. Teachers have been asked to ask their students "Essential Questions" in order to engage them in critical thinking which is one of the goals from last year's report. 
Junior Devin Larsen commented, "Mr. Schmidt has posted essential questions on the board as a warm-up but I'm pretty sure that's just something he does already. I'm not sure if they're for the WASC assessment." It is unknown the number of teachers who have been complying with the administration's request. 
The process of even understanding the complexity of the accreditation process is quite tedious, however students are highly affected by this as it determines not only the quality of their education but also the validity of their diplomas. Additionally, DeClerck stated that "the action plan we developed for WASC drives all school decisions for the next six years," which demonstrates how much power accreditation holds over VHS's reputation and quality of education thus making the school's performance in the March evaluation all the more crucial.