The year's Music Department seniors share their thoughts on the year
The VHS Music Department's pre-quarantine year was filled to the brim with successes, according to its members and Music Department Head Paul Hunt.
According to Hunt, some of the biggest successes of the year were the Benefit Concert and the Chamber Concert.
"The Chamber [Concert] was amazing. The students were in complete control of every aspect," stated Hunt, "And at the end, they all came on stage and partied. It was fun to see so much creativity."
Hunt also remarked that the Benefit Concert had almost 1,000 attendees.
However, the department's accomplishments go beyond their performances on stage.
"I'd say our biggest triumph for the whole department [has been] keeping everyone's spirit up despite the difficulties we've faced," stated senior Myles Marr, "I know all groups in the department have faced times where learning a part or song seems impossible and the current pandemic is a difficult situation for everyone. [But, throughout these rough times], the department has always found ways to keep people's spirits up through a sense of family and community, which is definitely our proudest accomplishment."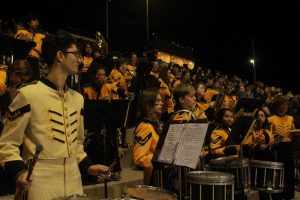 "Overall, the whole department has worked so hard to make each and every piece truly amazing," stated senior Malia Matthews, "The sheer talent and perseverance that every single musician in the department exudes really speaks to the level of passion and enthusiasm each musician has for the music we've played."
"The symphony orchestra was phenomenal, performing West Side Story and Danzon 2 by Marquez," added Hunt, "The Wind Ensemble Honors played the Lord of the Rings [which was great] and just about every piece we did in the Spring was gonna be awesome.
Some upperclassmen, like senior Quinn Gunderson, were surprised by just how capable their younger counterparts proved to be.
"I would say the biggest triumph [of the year] was how well all of the freshmen and sophomores stepped up because there are far fewer seniors than last year," stated Gunderson, "They really became independent quickly and that made it a lot easier to get things done."
"We really focused on making the younger musicians feel like they had equal responsibility and encouraged them to speak up if they needed help," continued Gunderson, "This year did not feel hierarchical and I think that really contributes to a friendly and productive team."
Hunt agreed, stating, "We had an outstanding freshmen class this year, everyone was hardworking and brought their personalities to the group. These have been some of our most cohesive groups and their achievements would have rivaled previous years [at Nationals]."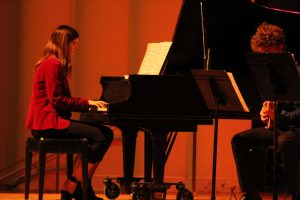 In regard to next year's department, stated senior India Hill, "There aren't too many juniors in the department this year, but I know that the juniors we have are more than capable of stepping into leadership roles."
When asked about the reasoning behind this year's successes, all of the seniors interviewed cited the comradery present throughout the department.
"I've truly created another family within the department and I'm so thankful for all of the memories and moments I've gotten to create with everyone," stated Matthews, "[Hunt] has created this space of safety and creativity within the school, and I really applaud him for letting us use this space to learn more about music and ourselves."
"I owe a lot to the department," stated senior Myles Marr, "I've learned from the department. Hunt has encouraged me to stand up for myself, helped me stop procrastinating assignments, and showed me ways to look at life much more optimistically. He's basically my second dad."
Hill had similar sentiments, stating, "Being in the department this past four years, it's always been sort of a second family and a home away from home."
Even senior Henry Haffner, a long-time musician but newcomer to the department, immediately felt welcome.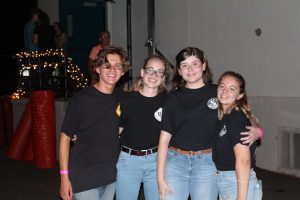 "We were all just having fun, and I felt really lucky to be a part of that," stated Haffner, "The music department was full of passionate people who really cared about what they were doing, and I always had fun talking to them and playing with them. I really felt like I fit in there."
Many music students attribute much of their success as musicians and the department's friendly atmosphere to Hunt himself.
"I would just like to say thank you to Mr. Hunt for working tirelessly to provide an excellent music program and to all of the people who have treated me so kindly throughout the years," stated Gunderson.
"Getting to know Mr. Hunt helped me see that he really cares about his students, and despite everyone coming into the department being a little scared of him, the more you get to know him the more approachable he becomes," Marr continued, "So much to the point where you can talk to him about any problems you've been having and he'll offer a solution or some advice."
"I can honestly say that joining the Music Department is one of the best decisions I've ever made and I'm forever grateful to Mr. Hunt and all of the students in the department," stated Hill.
"This year's seniors have been a great group," concluded Hunt, "Their biggest contributions have been their sense of humor, creativity, level of involvement and their work ethic. In short, their outstanding characters. They've also been phenomenal musicians who show they'd rather work together than be superstars."
Hunt offered  parting words for his college-bound students:
"I'd probably get in trouble for saying this how I want to, so I'll paraphrase: You guys are awesome and you've done too much to have reached a point where we can't properly recognize that. In the end, I know you will accept this as the strong personalities that you are. You're the best."