Looking West releases their debut single "I See a Man"
Local band Looking West releases their new single across several streaming platforms
The Ventura-based band Looking West, comprised of El Camino High School students Dylan Brehm '23 (lead vocalist and guitarist), Owen Neth '23 (backup vocalist and bass guitarist) and Ventura High School student Evan Brehm '24 (drummer), independently released their debut single "I See a Man" at midnight on Oct. 21. The song is three minutes and 24 seconds long and is available on several streaming platforms, including Amazon Music, Apple Music, YouTube Music and Spotify, as well as the social media platforms Instagram, Facebook, Snapchat and TikTok. 
Emilee Lasala '24 said, "I heard about their song when Evan talked about it in class. I loved the song. The beat and lyrics are catchy, and it has an upbeat vibe. [I'm] so proud of Evan [and] the band. [I] can't wait to hear more."
Looking West recorded "I See a Man" at the private studio Table 17 Studios, which Neth's father owns. The song's official recording sessions took place between June and September 2022. Looking West recorded, mixed and fine-tuned "I See a Man" during these sessions for official release. 
Looking West minimally edited "I See a Man" to foster a "live" listening experience. The song has limited overdubs, which are additional recordings added to a recording post-production to enhance it.  
Dylan Brehm said, "['I See a Man'] has a raw production. We wanted to make it the best representation of how we sound live. It has a lot of significance for us. That's why [we chose to release the song as our debut single]. It was one of the first songs where we came into our own sound and style."
Corey Muhlitner '25 said, "I like the guitar solo in ['I See a Man']. The drums are super sick too. I started listening [to Looking West] a couple [of] weeks ago after the drummer Evan showed me their band. I heard that they had their first single coming out last week."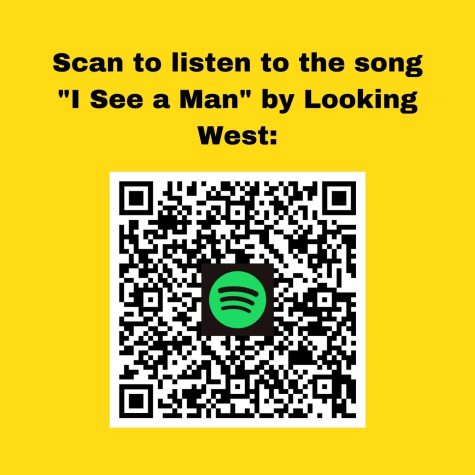 According to Looking West, the man referenced in "I See a Man" is Evan Brehm. According to Dylan Brehm, the song's lyrics "tries to go through his own hand to see if he is feeling" are in reference to Evan Brehm's experiences with lucid dreaming.
Dylan Brehm said, "The idea for the song was first conceived on a walk with Evan during the summer [of] 2021. I was inspired by Evan, so I wrote some lyrics and fledged it out when we got home. The song took me about 20 minutes to write fully. I [wrote] about Evan and [the] personal journeys he was going through. The song lists some of those qualities [and] journeys. I think I was trying to be supportive of him and be like, even though you are struggling to find yourself, I see a man in front of me."
Evan Brehm said, "The response [to 'I See a Man'] has been really cool. All our friends and our other fans seem excited about it. People have been congratulating me on the single, which is cool, but otherwise, not much about my school life has changed."
Alanna Meyers '23 said, "I think [that 'I See a Man'] is pretty dope. [It has a] good beat, harmony, lyrics, all of it. [It's] simple but catchy. I would definitely recommend it."
Looking West plans on releasing an album in the near future, but they have set no official date as of Oct. 21. The song "I See a Man" will be included in their upcoming album.
Wyatt Calhoun '24 said, "I thought ['I See a Man] was great. It's awesome seeing those guys release their first song. I believe I heard it live a while ago, and then Evan later explained that it was a new single they wrote. I hope the best [for] Looking West and [for their] music coming out in the future. Everyone should give them a listen."
Evan Brehm said, "We hope to continue to perform live shows regularly and continue to write music. We are very optimistic about the future and are looking forward to exciting opportunities. We aspire to have some more music out fairly soon, followed by a longer-length release in the future. Keep listening for us."