Drive-Ins are coming back
 Rolling back to the 50's with Ventura County's drive-in
Back in May, with the cancelation of the 2020 Ventura County Fair, Ventura was able to bring in "Concerts In Your Car." The event debuted in June at the Ventura County Fairgrounds, and has events of either comedians, concerts or movies. With the arrival of Covid-19 and rise of boredom in teens, many of Ventura High's students have been attending the events. It is a curated event intended to fulfill peoples movie watching and concert needs.
With everything having to be at home lately many VHS students are trying new ways to have at home movie theatres. People have resorted to purchasing projectors to up the experience. This was a great idea that people did, but a projector can cost anywhere from $39 to over $1000 for a nice one. Meanwhile, normal concerts can cost anywhere past $700. Though for the Drive In, the movies cost $30 per car and concerts up to $100 per ticket. You purchase them before arriving, and people can fill the vehicle with as many individuals as they'd like. From the pricing, it's been such an appeal for many teens and families. From "Despicable Me" to "Scream" and the diversity in music played there, it's clear why the event is always packed. People have been enjoying the time spent with others and a chance to get out of the house.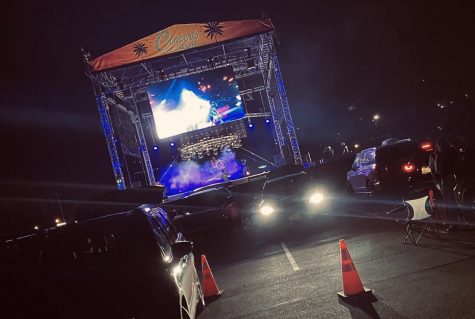 Individuals seemed to be interested in whether or not the event was family or kid friendly. Sophomore Reese Whitley stated, "Yea, I would say it's family friendly." Whitley had attended the "Journey Tribute Band" concert with her parents. Whitley also mentioned, "It was good, but you couldn't really hear anything because we were in the back row." There may still be some issues with sound and the time the event actually starts, but people are still able to have a good time.
With the combination of the ocean breeze, beautiful sunsets and a wonderful movie or concert, students have reported that it creates a great relaxing atmosphere for people to escape for a couple hours. "I saw Bill & Ted's Excellent Adventure because my family wanted to. You know it was alright considering the circumstances. I definitely prefer the theater but it was pretty good," said sophomore Rhema Paterson. It seems that even with the adaptation of life today, VHS students are still able to find joy in the simple things. Due to the unprecedented circumstances many are unsure on how long the event will last.