College Applications and quarantine season have intertwined, does it change anything?
COVID-19 has made for a unique college application process.
  As usual, here in mid-fall it is also college application season. When applying, seniors must consider factors such as one's major, tuition cost and desired location. The application process is time-consuming and potentially stressful as it's usually piled on top of advanced placement classes, sports and extracurricular activities including the general weight of ultimately deciding where one would want to go to college. This year has abnormal circumstances due to COVID and online learning where most sports and extracurriculars are not in session, which has made for a unique college application season. 
For students like senior Liliana Ramos, COVID hasn't had much of an effect on their application process, "If anything, applications have been easier since I'm stuck at home with a lot of free time that I use to work on them. Nevertheless, the process has been super stressful and makes me question if I'm good enough or capable to get into college."
Staying in the west, Ramos is applying to UC Davis, Cal Poly SLO, Oregon State, Montana State and Colorado State which in total requires her to apply with the UC (University of California) App, CSU (California State University) App, Common App and independent apps. All these apps have different requirements. Some, such as the UC App and Common App, include essay prompts selected to gather more information about applicants that isn't given through a transcript, while others like CSU simply ask for a transcript. The independent apps' criteria is tailored to whatever the school you're applying to and what they are asking for.
Along with Ramos, senior Riley Meagher hasn't felt much of an effect from COVID on her applications, "I think I actually have more time to work on my college apps because of the shorter school days. I also like that the SAT isn't required in applications because I think standardized testing does a poor job at representing one's intelligence or fitness for college." Unlike the previous years, this year's seniors aren't required to take or submit an SAT or ACT score due to the mandated quarantine that wiped out last school year's fourth quarter and summer break which is typically high school juniors' optimal time to take these tests.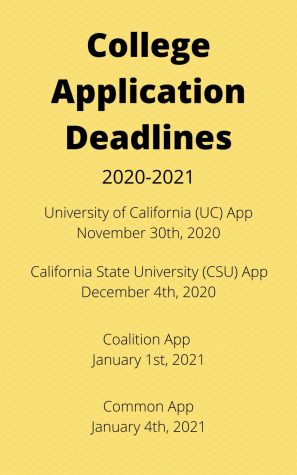 Meagher continued on about the effects the process has had on her, "Applications have definitely been stressful since online school has made it really difficult for me to stay on top of my school work, and college apps have become another thing on the checklist. It's also a little strange thinking about how the responses I give on my apps right now could literally determine how my future plays out. I always knew that this time of year was stressful for seniors, but that doesn't make it any easier."
Meagher is applying to schools scattered across the west and east coasts — four UC schools (Berkeley, LA, SC, and Davis), University of Washington, University of Hawaii at Manoa, Barnard, and possibly MIT which results her to submitting five different applications; the UC App, the Common App, the Coalition App and two independent apps.
Contradicting Ramos and Meagher, senior Jason Hepfer has had a more challenging experience, "I've found it somewhat more difficult due to COVID because we have relatively less guidance from counselors and teachers, but I also feel as though I have a lot more time to work on the essays and applications so it evens out somewhat." Not being able to meet in person has made it tough to not speak to and formally request letters of recommendation from teachers and counselors that would normally be a minute walk away on campus.
Hepfer proceeded, "The process has definitely added a lot of stress to my life. Sometimes I see my friends working on essays or conducting research and feel as though I am falling behind. I also have the looming fear that I won't get into any of my top choice schools due to the unprecedented application season for our class. With lots of freshman taking gap years and the influx of applications to top universities as a result of new test optical policies, this already unpredictable process poses new challenges for our graduating class." In the class of 2020, there was an increase in students taking a gap year for top reasons such as waiting to experience everything college has to offer when COVID regulations are uplfited as well as the financial and mental health benefits. 
Hepfer is applying to four UC schools (Berkeley, LA, SD, and SB) and about ten private schools, all of which are applied to through the Common App. His current top choice schools are Yale and Columbia, two Ivy League universities on the east coast.
Ramos, Meagher and Hepfer all expressed their fears and doubts which are completely valid and common. When applying to college, you are choosing where and how you're spending the next X amount of years of your life so essentially, you're making a decision that can influence and determine the course of your future. A decision not made lightly.