Newsom lifts California stay at home order
Was it really the best choice?
On Tue. April 6th, Ventura County entered the coveted Orange Tier. This means a lot of businesses are able to reopen with indoor capacity. More people are getting vaccinated everyday, and all those over 16 are eligible.
Ventura County has now entered the orange tier, which means that all restaurants are able to open with 50% indoor capacity, bars are allowed to be open without serving food, all indoor entertainment venues are open at 50% capacity, gyms and pools are open at 25% capacity, and amusement parks were able to open at 25% capacity. 
It is possible with all of the recent openings that we will be seeing a spike in COVID-19 cases. People might think that since we're in the orange tier now, it is safe to gather in large groups with no safety precautions. We saw this same thing happen on memorial day last May, we had a rise in COVID-19 cases after memorial day parties were held, according to The Washington Post.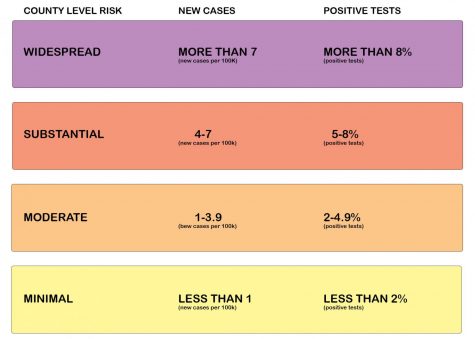 "Like most everyone else, I want to go back to doing everything, but we have closed and reopened everything a lot and the cases keep going up," Said sophomore Abigail Escalante. "I feel that maybe if we all just stayed at home for a while, the COVID-19 cases would be better or very low," she added. Like most people, she just wants things to go back to normal. 
If we keep opening everything so fast, we will just get a rise of cases and we could very well see a fourth wave. This cycle of reopening and shutting back down has been happening since mid-May of 2020 and it needs to stop if we are ever going to recover. 
"When we are in the stay at home order there's less chance of people getting corona," sophomore Kendall Garcia said. "We should obviously not be going out if there's high infection rates like there currently is."
Garcia continued, "The way he lifted the stay at home order this time wasn't because of science or corona numbers going down, it was because of people trying to take him out of office." 
This recall Newsom movement has been going on since 2019 and the group that leads it has demands such as no gun control, no free healthcare, no ammo regulations and other beliefs like such that can be seen as right wing extremist. 
"Things like getting your nails done, getting haircuts and stuff like that really shouldn't be that important right now because we're in a pandemic and you shouldn't be seeing anyone anyways with the amount of people currently dying," Garcia added. 
Since entering the orange tier, many businesses and establishments are able to open with indoor access. But if people don't continue to practice social distancing and mask wearing, it is likely that we will go back into the red tier. No one wants this to happen, so the best thing for us to do is to stay safe.