So… what's next for VHS graduates?
Here's why some seniors are choosing community college
As the college application season is coming to a close, many Ventura High seniors have chosen to enter straight to community college in the fall. 
Community college is typically completed in two years, followed by transfering to a four-year university. Instead of completing the process of paid applications when enrolling to a four year school through the Common App, Coalition application, QuestBridge, UC application, etc, most community colleges offer rolling admissions with no application fee where students directly register for classes. 
Community college draws students usually due to the following benefits. Community college is on average cheaper than attending a four year university. According to educationdata.org the average cost of an associates degree for an in-state community college student is $1,300 compared to just a year at an in-state UC which is roughly a sticker price of $35,000 annually including tuition, boarding and fees.
Senior Daizy Munoz has taken the financial benefit into account. Munoz, who plans to attend VC, said, "It would be closer to home and it's free." Many California community colleges participate in the California College Promise. According to venturacollege.edu, "The Ventura College (VC) Promise covers the cost of the per unit Enrollment Fee, Health Fee, Student Center Fee and Student Representative Fee for students who meet certain eligibility requirements." The Ventura College Promise is also one of the longest running Promise programs in California.
Community college also offers flexibility for students. Take senior Sofia Ramos, who is planning on attending Ventura College in the fall, for example. Ramos said, "I'm starting there [VC] because I don't know what I want to do for sure yet. I didn't have a major in mind or a certain school I wanted to attend, so I thought it was a good way to take time to decide." She continued, "It is still close to home, saves money, [I] get to stay at my job and [community college] lets me take time to decide what I want to do."
Ramos isn't the only senior who sees the benefit in being able to keep a job at home. Senior Karely Legazpi, who plans to major in Psychology at VC, said, "I decided to attend community college because I can be close to my family and work at the same time."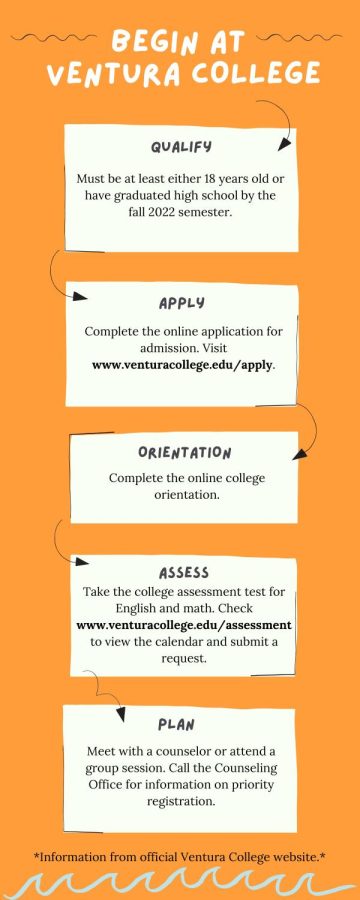 Senior Aliza Barroca is going to VC as of now, possibly Santa Barbra city college. She said, "During the pandemic, I felt like I was falling behind, and I didn't feel academically or financially stable enough to go away to a four year yet. Also, I'm graduating at 17 so moving away from home just feels a little overwhelming." 
Barroca has also considered both the financial and job aspects of staying local. She said, "I can get my GEs out of the way and keep the job I have here and save up while I figure out what I want to do. Honestly, I'm considering it a really productive two gap years."
Of course, not every plan is perfect. Barroca disclosed the con of missing out on what some might consider traditional college life. Barroca said, "My only con I guess would be that I'd be missing out on dorm life. That always sounded really fun to me. But if I get an apartment with roommates, it's kinda the same thing."
Ramos also pointed out that the rigor may differ at schools. She said, "Classes may not be as hard as I can challenge myself in. I tend to thrive in classes that put me to work."
VC and SBCC both offer the Transfer Admission Guarantee, or TAG program. By following certain requirements when completing their AA, students are guaranteed a space at one of the following UC's upon graduation: Davis, Irvine, Merced, Riverside, Santa Barbara or Santa Cruz.
Barroca has considered some plans for after community college. She said, "Hopefully I get to do a semester in Germany after CC. My aunt lives there so I would stay with her. And then, I'd probably want to finish my bachelors and grad [graduate] in-state, but I'm interested in schools on the east coast."
It isn't only seniors planning the next two years and beyond. Freshman Jubilee Cherry said, "I plan on going to SBCC, and I want to go there because it will give me experience with college near home before I go across the country for college. I plan on going to community college for cosmetology and psychology." From there, Cherry would use the transfer system to continue her education. Cherry said, "My plans after the two years are to go to some fancy college in New York or Illinois; I haven't decided yet."
Community college allows students to pursue their dreams by graduating with an accredited associates degree and setting themselves on the correct path to then pursue their bachelors and beyond. All this, and tens-of-thousands of dollars are still saved.