Ventura High School choir set to go to New York City
VHS choir has been invited to perform at Carnegie Hall
Between June 22 and 26, the Ventura High School choir will perform at Carnegie Hall in New York City, N.Y. The performance will be 30 minutes long, and be accompanied by an orchestra. VHS choir will join a group of about 100 singers from Ventura County, including singers from California State University Channel Islands (CSUCI) and Santa Paula High School, in addition to local community singers not affiliated with any school.
VHS Choir director Miriam Arichea said, "We also have some VHS alumni that have joined our [choir] group and will join us to perform at Carnegie Hall. The work that we [choir] are going to be performing [at Carnegie Hall] is 'Lux Aeterna.'"
The planned trip to Carnegie Hall has been funded by a grant from the Channel Islands Chamber Orchestra. The estimated cost for the trip is $1,800 per person. The grant will cover all but $300 of the total cost of the trip.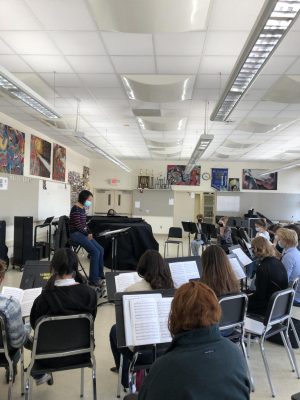 Arichea said, "The Channel Islands Chamber Orchestra has an educational component to their mission. I wrote up a grant proposal and got them to give us the funds."
VHS choir has 17 members and they meet twice a week with two-hour sessions each. They meet in the music room. All 17 choir members are set to travel to New York City in June, with the exception of one.
Junior Pia Wetzel, who is a member of the choir, said, "It's [the planned trip to New York City] amazing. I've always wanted to go to New York and this is my opportunity. It's so cool to be able to go to Carnegie Hall."
For the 2021-2022 school year, the VHS choir has focused on singing classical music. However, they also sing pop and musical theater songs. In addition to Arichea, the choir is also led by Dr. KuanFen Liu, who is an assistant performing arts professor at CSUCI. 
Freshman Leah Murphy, who is a member of the choir, said, "Choir is really fun. I come from a long line of singers. My mom is an opera singer and I've been singing since I was four. It's fun to sing with other people especially because I have not sung in so long because of COVID-19."