Sing it like it's Broadway-Show Choir performance
"A Tribute to the Tony's" was a district wide choir show, featuring songs straight from broadway
As the curtains were drawn, the audience applauded as the show choir, "Tribute to the Tonys" began. The 32 song act was composed of students from multiple high schools in the Ventura Unified School District, including Ventura, Foothill and Buena. The theme of Tony nominees created unique tones and flares to each song. Songs like, Giants in the Sky sung by Junior Mae Stepan, So Long Dearie performed by junior Lourdes Lopez, freshman Ada Sheeran, freshman Bailey Burman and sophomore Juliette Nassarenko complete with feather boas. A variety of songs that each brought an interesting and enrapturing twist to this two hour long performance. The night ended with Hedi House, expressing her gratitude to her students, many of whom had been performing since elementary school, and had grown up in her program.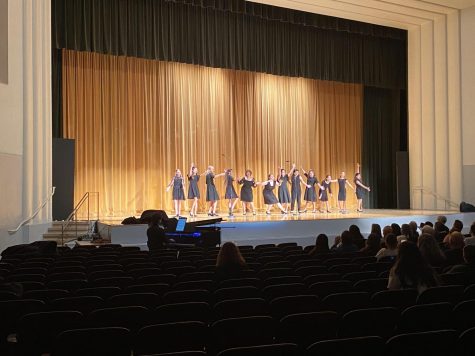 VHS senior Bre Roark, who performed the songs, Another Openin' Another Show, If Momma was Married, Impossible and Our Time said, "I heard about show choir from an upperclassman in my drama class my freshman year. At that point it was already too late in the year to join so I was quick on my feet my sophomore year to join. The last three years have been so memorable. I absolutely love the environment, the people and just performing in general. My favorite part of our most recent performance was probably my friend Channing's solo. It was the last song of the show and absolutely astounding…As of right now I'm planning on majoring in musical theater and I'm super excited. Show choir has been such an important part of my life these past few years and it has definitely influenced me into making that decision into pursuing the performing arts beyond high school." 
These 31 dedicated students arrive at school for zero period at 6:15 a.m every morning, and often around show-time, night practices are common too. This could mean waking up at 5 a.m. just to get to school.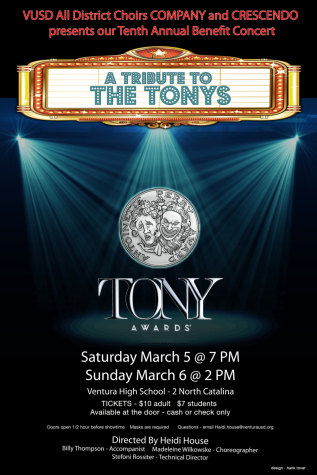 Sinthia Cardenas, a junior at VHS is the Company Manager for choir and has been participating in choir for seven years. She said, "I joined choir in fifth grade because my mom forced me too. I hated it then, but am now forever grateful. I was in Noteables (House's elementary choir) for one year, Crescendo (the middle school choir) for three years, and this is my third year in Company. My favorite part of the performance was not part of the actual performance, but the group celebration afterwards. I do not intend to pursue a career in the arts but I am forever inspired by the director Heidi House. If anyone is interested in joining our Show Choir, it is not too late to join in time for our spring concert and we would love to have you!" 
The Tribute to the Tony's show included different styles of dance that were all the vision House. Roark puts it as, "Thank God for Hedi House!"