Opinion: How do student athletes feel about alumni coaches?
Student athletes define the positive and negative aspects of having returning players
lead them in their fall seasons
Here at Ventura High School, the majority of our coaches are returners, but how do our athletes really feel about this? After speaking to several students about their alumni coaches for their current fall sports, it is easy to conclude that the positives of these returners heavily outweighs the negatives. Although these coaches are not the most official, they are able to have bonds with our athletes that empowers them and makes them unmatchable. 
VHS Varsity Volleyball Player Sophia Sletten '24 said, "My favorite thing is that they are very spirited and they really want the team spirit from when they played to continue on through the years. My least favorite thing is I mean it's obviously good to have a younger coach but if you have a coach that's fresh out of college and kind of younger, they can start to feel a little bit too comfortable, but obviously that's everyone's own perspective on how they look at it." 
Sletten also believes that coaches have all the control on how comfortable the team is with them and they are really able to set that boundary with their mindset towards the team. 
Coach Kobie Jimenez is currently 24-years-old and won CIF at VHS on the varsity volleyball team in 2016. Following this she went on to play indoor volleyball at UCSB, graduating in fall 2021. 
Jimenez said, "I am pretty intense, constructive, and bring a lot of energy. I am usually the one who gets the girls fired up in the huddle or the one giving motivational speeches." These alumni coaches really bring the spirit back to the teams here at VHS. 
"My favorite part about being an alum coach is that I get to be back in Tuttle Gym and see how many more fans this year's team is getting. When we were in school hardly anyone went to our games. It's just a fun environment to be in," said Jimenez.
She is not the only alum coach of VHS Varsity Volleyball. VHS Varsity Volleyball Head Coach Brian Orneals is also an alum. 
The VHS Football Team has the most alumni as coaches. Roman Iadevaia '24 said, "I feel like there are negatives [of having alum coaches] because not all of them were like the greatest players but they bleed black and gold and that's all we need." Players here at VHS seem to value the connections more than the credentials of their coaches, really showing how spirited we are at VHS. 
Dylan Garcia '23 said, "I feel like I can come to coach Garcia for anything. We can talk about football or just life in general." The athlete to coach bond at VHS is unlike any other. 
Corner coach Micheal Marin who graduated in 2020 from VHS is the youngest alum coach for VHS Varsity Football. He played football and ran track all four years at VHS.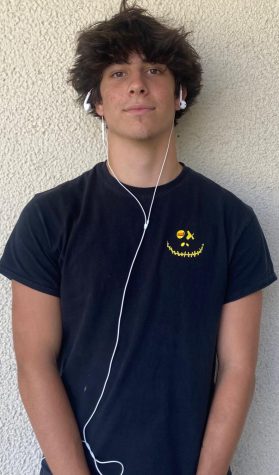 Marin said, "Cougar football gave a lot to me while I was in high school so when it was time for me to give back to the high school and the program, I was more than willing to do so." 
Student athletes feel so connected here that it gives them so many reasons to come back. Other reasons Marin gave for what the program gave to him were because it kept him out of trouble and making bad decisions as well. 
"I, being a recent alum, can relate to the players a bit better because not too long ago I was in their position going through the same struggles, which I believe creates a new level of trust between the players and I," said Marin. He considers the only downside is that he can be mistaken for a player.
Overall, our alumni coaches here at VHS are respected and looked up to. VHS Athletic Director David Hess said, "Alumni feel like they were given a lot as athletes and they want to give back to the school and programs that helped them. I myself got my start in education as an alum coach." 
Alumni give our athletes a shoulder to lean on and someone that they know can always relate to them. Alumni keep the black and gold spirit alive and after talking to them, it is clear that many athletes prefer them.