Middle school and VHS musical groups perform at the Honors Winter Concert
The first concert out of three in the VHS Music Winter Concert Series
The Ventura High School Honors Winter Concert occurred between 7 and 8:37 p.m. Dec. 1 in the VHS Auditorium. The concert was the first of three performances in the VHS Music Winter Concert Series and will be followed by shows on Dec. 14 and 15. Winter Concert Series concerts are free to attend.
In chronological order, the concert featured performances by the Anacapa Middle School Wind Ensemble, Cabrillo Middle School Wind Ensemble, VHS Wind Ensemble Honors and VHS String Orchestra Honors. In total, 150 students performed, and 90 were VHS students.
The middle school wind ensembles played between 7 and 7:38 p.m. These groups' performances were followed by an intermission until 7:45 p.m., which marked the beginning of VHS musical performances.
VHS Music Director Paul Hunt said, "​We split the performances by level so that the most advanced ensembles are performing together. The honors groups perform the most rigorous music written. It also means keeping the concerts to a reasonable length of time. If the other [musical] groups were to perform, the concert would have lasted over three hours."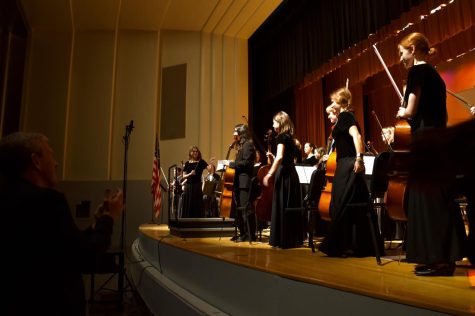 Among the artists whose music was performed at the concert were James Curnow ("Mid-West Golden Jubilee Overture"), Jerry Brubaker ("The Complete Harry Potter Themes from All Eight Movies"), William Owens ("Dakota"), Frank Ticheli ("A Shaker Gift Song"), Steven Reineke ("Where Eagles Soar"), Julie Giroux ("Bookmarks from Japan"), Leonard Bernstein ("Overture to 'Candide'"), Wolfgang Amadeus Mozart ("Symphony No. 25"), Camille Saint-Saëns ("Allegro Moderato from Symphony No. 3") and Jack Jarrett ("American Folk Song Suite").
Tenor saxophone player Reese Whitley '23 said, "I think it was one of my better run-throughs. For my orchestra's performance, I think it went great, and everyone was in a really good mood, and we did our best to make a good band sound. I think we played ['Overture to "Candide"'] and the first movement the best. I feel like I've performed so many times over the past seven years, and it's kind of easy because I'm in the third row and I can't see anybody so it's not that nerve-wracking."
Concert viewer Alex Elliot '24 said, "The concert was great and I'm so proud of everyone. I attended the performance for my friends and family. I enjoyed all of the string orchestra honors pieces the most. The music made me feel so inspired and empowered."
The Dec. 14 and 15 VHS Music Winter Concert Series shows will most prominently feature non-honors VHS musical groups. However, the last show will contain the honors group as a part of the symphony orchestra.