VHS drama departments "The Addams Family" musical auditions are upcoming
 VHS students are preparing to audition for the spring musical "The Addams Family" in February
"The Addams Family" is the upcoming musical at Ventura High School. Auditions for the musical are on Feb. 15-16 and are open to all VHS students. 
VHS drama teacher and director of "The Addams Family," Stefoni Rossiter said, "[The auditions will take place] on the main stage, in the evening but if people want [to know] exactly [what time] they need to set up an appointment with me and get the information. I'm always in the office in room 314 or they can email me and leave a message."
"The Addams Family" musical was written by Andrew Lippa, Marshall Brickman and Rick Elice. It was first performed in 2009 before heading to Broadway in 2010, and the musical is based on "The Addams Family" TV series, an American black comedy sitcom based on Charles Addams' New Yorker cartoons from 1964 to 1966, comprising a total of 64 episodes.
Rossiter said, "[People will be able to audition for] the traditional roles of the 'The Addams Family' characters because 'The Addams Family' musical is based on the original TV series from the 60s. There's Gomez, Morticia, Wednesday, Pugsley, Lurch, Grandmama and [Uncle] Fester for the family members. However, this version of 'The Addams Family' is set in the future [where] Wednesday, their daughter, is 18 years old and has fallen in love, so her fiance and his family are also main characters. [There's also] the ancestors, the dead ancestors of 'The Addams Family' [that] come back to help the family resolve their issues."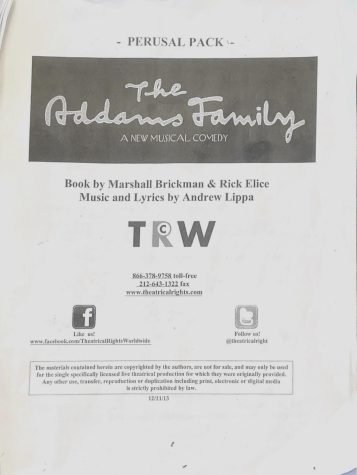 Robin Strunk '24 who is a first-time auditoner said, "I will be auditioning for 'The Addams Family' musical. I want to be in the musical because I've always loved 'The Addams Family' and I've seen this musical professionally performed a few times." 
Strunk said, "I will be auditioning for [the role of] Uncle Fester, but [I] would be open to any opportunity. I haven't acted in any productions, but I was on the hair and makeup crew for the fall play 'Puffs,' which was a great experience."
Marissa Prado '23 who is trying out for her first musical said, "I will be auditioning for this year's musical 'The Addams Family' because I want to experience what it's like acting onstage in the lights, including singing, and I think it'd be fun performing with my friends. I believe it will help me feel more comfortable to leave my comfort zone more often and get myself out there a little."
Prado said, "I don't think I'll be auditioning for any specific role, but I'd really love it if I got Lurch or maybe even Alice. Any role would really be appreciated! I haven't been in any of the productions, but I hope that this could be my first one."
Rossiter said, "Our auditions are extremely competitive and this musical in particular has extreme interest so I predict that there will be lots and lots of people. We could even have 100 people auditioning for the roles."
Adam Hibberd '24 who is trying out for his 3rd production said, "I hope to get [the role of] Gomez Addams since he seems like so much fun to play. I was in 'You're a Good Man, Charlie Brown' last spring and 'Puffs' this fall and both were amazing experiences."
Rossiter said, "I do offer an opportunity for all the people auditioning to come after seventh period several times before the auditions to learn the songs with me. They don't have to and it's not mandatory, but for anybody that needs the extra help, there is extra help available."