Ventura High School dance teams step into the spotlight
Recap of VHS dance teams 2022-23
VHS' dance teams have been around since the 2000s. The school's dance program, taught by Taylor Koester, has brought dance education to VHS students. VHS offers a variety of different skill leveled classes as well as youth camps, performance opportunities and open dance classes. 
On Jan. 20, Dance and Rhythmics 1, Dance and Rhythmics 2, the hip hop team and the dance team had their Informal Showcase during period six from 1 to 2 p.m. in the VHS auditorium. 
Hip hop and dance teams have performed at football games and even basketball games. On Jan. 26, VHS hip hop and dance performed for their last game at the VHS versus BHS girls basketball game. The hip hop team performed "Diva's," by Beyonce and the dance team performed "Wanted Dead Or Alive," by Jon Jovi. It was also the VHS seniors' last game performance of the year.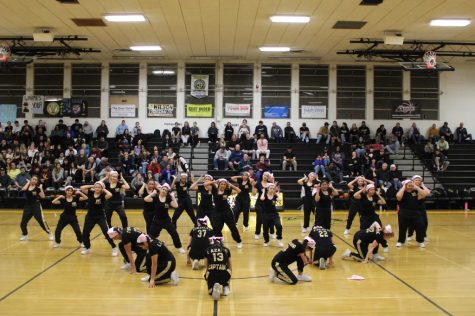 Ivana Rico '23, captain of the hip hop team, said, "My favorite performance has to be the homecoming performance year [2022-23]. It was a combinated dance with the dance team and hip hop team. I was [also] a part of homecoming royalty and it was an exciting performance."
They recently had a free open dance class series where they had Hip Hop on March 8, Musical Theater Jazz on March 22 and Reggaeton on April 5. All classes were from 6 to 7 p.m. It was open to all VUSD students ages 12 to 18 in Room 40. 
On Feb. 11, they had their very first competition at Agoura Hill High School for the West Coast Elite competition. The dance team took home fifth place for the "Small Contemporary," and hip hop took third for the "Large Hip Hop" competition.
Koester said, "It was so much fun and was definitely a new experience. It was very eye opening. It was really cool for [the] dance team and hip hop team to get to meet dancers from other schools and from other high schools and dance programs here in Ventura County." 
On March 18, they performed at the 805 Night Market along with other dancers around Ventura County, including the BHS dance team, the Alias Dance Fam and many more. 
In the first few weeks of May, there will be auditions for both hip hop and dance teams. Dance team auditions will be held from 3:45 to 5 p.m. on May 2 to 4. Hip hop team auditions will be held from 3:45 to 5 p.m. on May 9 to 11. The first two days of the auditions will be workshop days to learn the dance routines. On the very last day, auditions with the coaches will be held.