Opinion: "The Addams Family" was a hit
The musical proved that a VHS theater production could live up to the expectations set by a big-budget predecessor
Soon after the success of "Puffs" and the booming popularity of the Netflix show "Wednesday," the VHS Drama Department announced that they would be doing a reenactment of the famous musical "The Addams Family." I was uncertain of how this show would actually perform in comparison to its numerous predecessors, as a spin-off like "Puffs" had no concrete expectations to live up to and thus carried less weight, but I was pleasantly surprised.
The musical, which explores family dynamics and follows a love story between Wednesday Addams and Lucas Beineke, boasted Adam Hibberd '24 as Gomez Addams, the father, and Mya Sherman '23 as Morticia Addams, the mother. Both actors enveloped their roles completely, with Hibberd sporting an accent that didn't falter once throughout the whole show and Sherman's movements perfectly embodying a refined and confident ghoulish woman.
Wednesday Addams was played by Sinthia Cardenas '23, Lucas Beineke by Caydon Thomas '24 and Alice Beineke by Ari Goulette '23, all of whom were very good, with Cardenas' and Goulette's singing standing out to me the most. Their singing was arguably one of the strongest points of the musical, as they both had great vocal control and range, which made them enjoyable to listen to.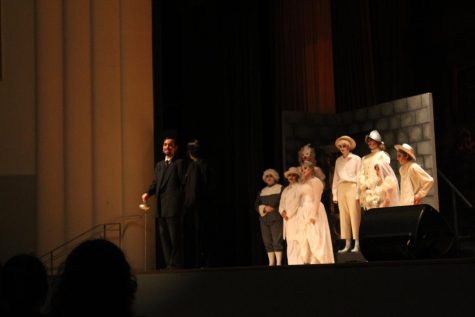 Sofia S'gro '23 said, "My favorite things were the costumes and props. The cast performed great and I thought the singing was one of the highlights of the show. This musical was the first I'd been to at VHS and it definitely exceeded my expectations."
Other notable actors included Wren Stepan '23, who played Pugsley Addams, Wednesday's brother, and Penelope de Soto '24, who played Fester Addams, Wednesday's uncle. Stepan's dedication to their role was impressive as they were mounted on a wall and had to contort as though being shocked during a scene, something which was likely difficult to do in front of a large crowd but done well. Soto's dedication to their role was also commendable, as they shaved their head specifically to play Uncle Fester and utilized an eerie, high-pitched voice throughout the entire musical.
Hanna Le '23 said, "My favorite things were the costumes and makeup. I think the costumes were done with such detail and they were all so beautiful, especially the ghost costumes. The cast was also incredible and I loved Sinthia and Ari's singing. They always exceed expectations and are the life of the drama department."
Overall, the musical was a definite hit. I would love to see VHS put on more reenactments of big-name musicals, specifically something like "Annie" or "Shrek," the latter of which Oak Grove performed during March and was a success. I am looking forward to seeing what the drama department does next.