This chocolate boutique is open and unique: Ex Voto review
Isn't it a beautiful thing to watch a dream come true?  
Making their way from the Ojai Farmer's Market, the local chocolates and confections boutique, Ex Voto, recently opened their storefront at 2646 E. Main St in Ventura, CA.
Junior Alisann Tolosa stated, "I love it. It's chill, like you could hang out with some friends after school. All the food is great, especially their lattes, and the ice-cream is so good. The only downside is, it's kinda expensive."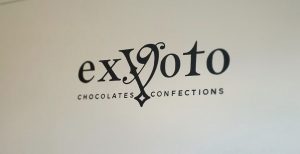 As mentioned by Tolosa, the menu extends beyond chocolates, including various confections. Ex Voto has an assortment of caramels, fresh baked goods including cakes and cookies, ice-cream and coffee drinks.
Ex Voto has a variety of ice cream flavors, from vanilla to cereal flavors. "Ex Voto is exquisite. I went there recently and had the malted mocha ice cream. It was lovely," junior Kate Marsden said.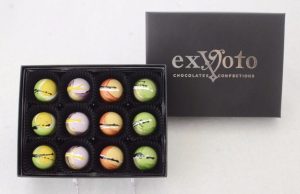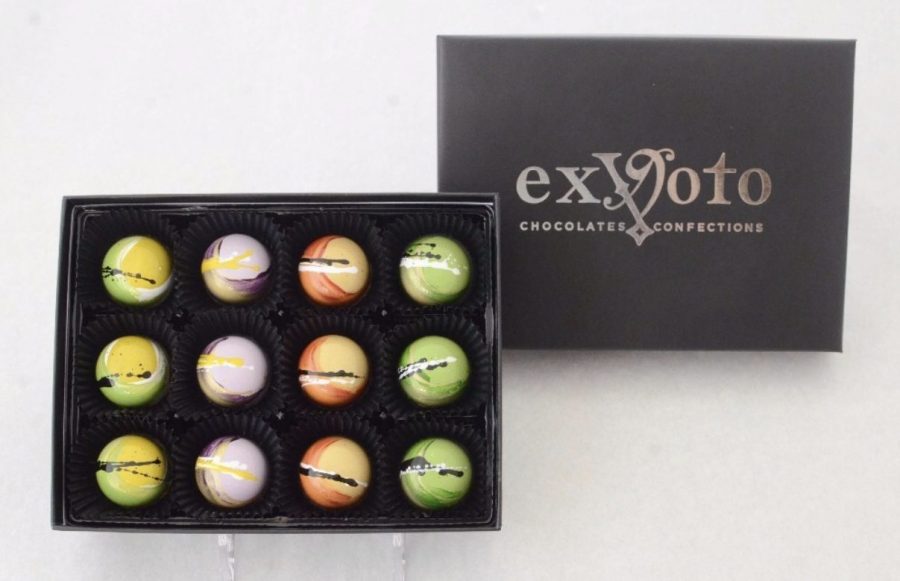 Hand decorated individually with colored cocoa butter, Ex Voto's bonbons look as good as they taste.
Junior Seth Quinn gave a personal look on his mother's' thoughts: "She really has loved cooking and working with food since a really young age. She knew she wanted to do something with food and business so she started [working with] other foods but came to chocolate a few years ago."
Not only is the food delicious, but it's also organic. They use fresh juices and fruit purees to flavor their bonbons. The nut butters are also made from scratch.
Quinn stated, "It tastes better and it's better for you. There is also gluten free and vegan options as well."  
Ex Voto is closed on Mondays, but is open Tuesday through Thursday from 10 a.m. and 6 p.m. and Friday through Sunday from 10 a.m. and 9 p.m.