After going through very challenging auditions and competitions, seven of Ventura High Schools student's made three different bands and orchestras.
These auditions are held every school year and any student who takes a band class at VHS can audition. This year 12 students auditioned, but only seven made it in.
The students had the option of auditioning for two different band levels: All-State and County. VHS music director, Paul Hunt, explained the difference between the two, "Both require auditioning, but All-State is open to students from the entire state of California whereas County Honor Band is just [open to students from] Ventura. The All-State/ County Band uses instruments similar to our wind ensembles, and the Symphony Orchestra includes string [instruments] as well as band instrumentation."
The auditions were held in the VHS auditorium and the Newbury Park High School auditorium.
Junior Jonathan Van Hyning shared, "The auditions for All-State were recorded in the auditorium here and [sent] to the judges around the state- and the conference is in San Jose in February."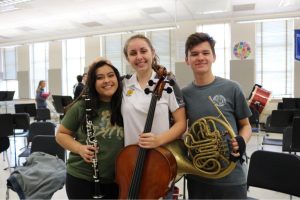 Van Hyning also shared the audition process for the County bands, "For [the] County [bands], the auditions were at Newbury Park High School."
Van Hyning and senior Samila Aquino made the All-State Honor Band.  
Senior Cameryn Boggio-Shean made the All-State Honor Symphony Orchestra with her cello.
Juniors Lizzy TePaske, Mackenzie Jones, and Van Hyning made the Ventura County Honor Band along with seniors Aquino, and Evan Tindall. Sophomore Noah Laber made it as well.
There will be a concert in February at VHS for the Ventura County Honor Band.
TePaske shared how she prepared for her audition, "I prepared by listening to a professional recording of the piece and then I tried to play it as close to the recording as I could."
When asked how she felt about making it into the Ventura County Honor Band, TePaske said, " When I found out [that] I got in, I was really excited and happy!"