Seniors searching for scholarships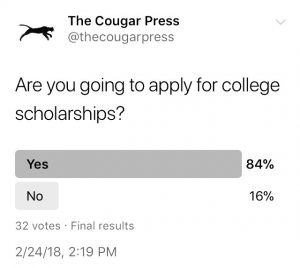 Now is the time where college is approaching for many high school seniors, but as the cost of a college education increases, their dreams of going to college may be a bit of a financial reach.
There are many students who get into college with athletic scholarships, but for those who aren't athletically inclined, there are merit based scholarships.
According to a Twitter poll conducted by The Cougar Press, 26 students voted whether or not they knew where to find information about college scholarships. Of those 26 students, 54 percent of them voted "yes," while 46 percent voted "no." 
College and Career counselor, Patricia Roberts, mentioned where students can find information on scholarships: "It is usually here in the Career Center. We have a scholarship bulletin that gets put together [and] updated every couple of weeks. Students can come and pick up the actual bulletin."  Students can also access a digital version of the bulletin underneath the "counseling tab" online at venturausd.org/ventura.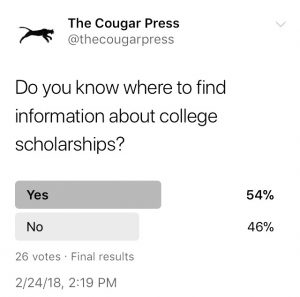 With there being many different scholarships, the most commonly applied to one is the Ventura County Community Foundation Scholarship Program, which closed on Jan. 28.
"The scholarship is just for Ventura County students and it was a consortium of about 50 to 80 different scholarships, but they did one application for it. [From that one application] it would match [students] to ones that they met the criteria for," Roberts said.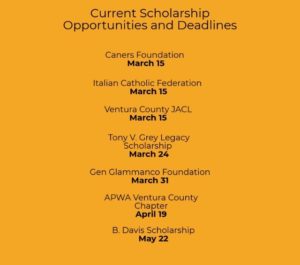 Roberts mentioned other scholarships available to students: "There is going to continue to be local scholarships that our students will have great opportunities for, like the VHS PTSA. There is a [VHS] Alumni scholarship. [The scholarships] continue on all the way until June."
All scholarships have different requirements that must be met in order for students to obtain them. "[The requirements] are all a little bit different. Many of them are really specific towards a certain major or if [students] are going to a 2 year school versus a 4 year school. For the most part, they are all looking at GPAs and [community] service," shared Roberts.
Another Twitter poll conducted by The Cougar Press asked students if they plan to apply for college scholarships. 32 students voted and 84 percent of them voted "yes," while 16 percent of them voted "no."