Do VHS students know about BDSM?

BDSM is a wide range of activities, mostly sexual, although not always. Bondage is usually performed with handcuffs or rope, while discipline with a whip or a belt. Dominance and submission can be defined as receiving pleasure or satisfaction from being dominant or dominated, respectively.
Dictionary.com defines sadomasochism as "interaction, especially sexual activity, in which one person enjoys inflicting physical or mental suffering on another person, who derives pleasure from experiencing pain."
Junior Archer Herring said, "I think that kinks and fetishes are not a bad thing. Yes, they might be weird sometimes, but if it doesn't affect you, who cares? I don't have any kinks or fetishes, [and] I don't want to talk about or hear other people's."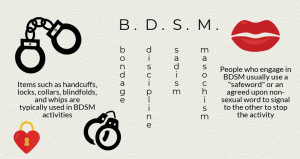 Students can take an extensive online quiz at BDSMtest.org which will "test the kink out of you."
Urban Dictionary defines BDSM as an overlapping abbreviation of bondage and discipline, dominance and submission, and sadism and masochism. The test gives students the percentage they fit in each of the 24 categories of BDSM.
The complete analysis is over 50 questions that students rate on a scale of red to green, the darkest red being absolutely disagree and the brightest green being absolutely agree. There is the option to take the submissive half or dominant half of the test, if students prefer to take it all.
Senior Connor LeMaire said, "When I think about BDSM, I think about bondage, like bindings and rope, hardcore stuff. I think fetishes and kinks are what keeps the bedroom alive. Who wants to have a boring relationship?"