VHS students take the field, giving the Earth the advantage
At VHS, a special set of classes are available for students to take that can go towards your overall credits. These specialized classes are categorized as  Regional Occupational Program classes, commonly known as ROP classes, and are organized by the Ventura County Office of Education.
Every class option is very specific in what it specializes in. The first semester consists of interactive instruction from the teacher and online material. During the second semester, students take part in an internship in the real world as part of the functioning workforce.
The Ventura County ROP is broken down into two categories: off-campus and on-campus.
The ROP off-campus classes are composed of 57 different courses in fields which are Agriculture and Natural Resources, Arts, Media and Entertainment, Health and Medical Technology, Building and Construction Trades, Engineering and Architecture, Information and Communication Technology, Manufacturing and Product Development, Marketing, Sales and Service, Public Service, Transportation and Varies. Some of the individual classes include Honors Game Design Studio, Medical Assistant Internship, Sports Medicine Exploration, Honors Engineering, Honors Cybersecurity, and Air Academy: Unmanned Aerial Systems.
There is 9 ROP classes that are held on-campus, with VHS having 8 pathways that can lead students into the designated ROP class. Some of the ROP classes that have pathways are Robotics Honors, Honors Food and Hospitality, Advanced Automotive Technology and Choreography.
One of the VHS ROP classes is the Honors Environmental Field Studies ROP class taught by Jared McEntyre. This is one of the classes that has a VHS pathway and requires all students to pass the AP Environmental Science class, also taught by McEntyre, before they can enroll into Honors Field Studies.
McEntyre is the first teacher at VHS to teach this Honors Field Studies course, but to start this program, he received help from Principal Carlos Cohen, allowing him to be flexible with the schedule, as well as officers at the county and workers at the district level, who manage the grant money that is set aside for this program.
McEntyre likes this class especially because all of the students taking the course have already taken the AP Environmental Science class, which allows everyone  to "have the working knowledge of environmental issues," so they can work at a higher level.
McEntyre continued to explain why he likes the class so much: "I really like doing some applied work of the material we covered in AP Environmental Science."
As for the future of the class, McEntyre said, "I want to do longer term data collection, and I think we're starting that already. I really want to build upon the techniques that we are already learning and continue to do that into the future, long term. One of things we'll be working with are other schools. For next year, one of my sections we'll be doing some air quality monitoring, looking at issues of environmental justice. And so, building relationships with other schools will be a neat part of the program."
Finally, the reason McEntyre gave for why this class is important, he simply put, "#waterislife."
Two seniors that just recently completed the Honors Field Studies program are Finn Anderson and Alex Rangel. Both students were part of this year's class and were involved in the same internship. Rangel said he liked the class because "it's a lot more interactive and you get to physically take part in experimenting with some of the stuff you previously learn[ed] [about] in [AP Environmental Science]."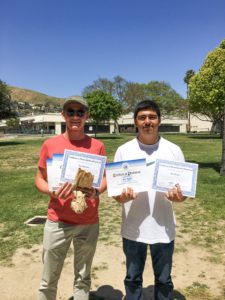 Rangel suggested that if a student "[plans] on going into an Environmental Science field, [the class] really does a great job introducing [them] to some possible jobs that [they] could look into in the future. The class covered many different fields such as water treatment [and] ecology restoration with a few local organizations."  
Rangel also explained what he and Anderson's internship was all about: "Our internship was with the National Park Service, whose headquarters is in Thousand Oaks, but we spent the majority of our time out in the Santa Monica mountains removing invasive species and restoring a few sites. We also got to work in their plant nursery and learn a bit about what kind of plants and animals are in the Santa Monica mountains. We thought it would be a fun internship to take part in because it was more outdoor work in a beautiful location."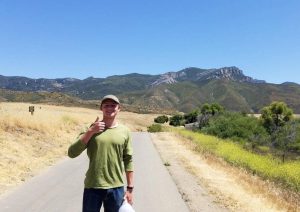 Anderson will be attending Washington State University and Rangel will go to California State University, Northridge. Both students will be majoring in civil engineering, which deals with environmental aspects, at their selected college.