Opinion: advanced placement vs. dual-enrollment
Advanced Placement (AP) classes are the highest level classes that are offered at Ventura High School. They are "college level" classes that you take for the year and that builds up to an optional test at the end of the year. These classes are designed with the intention of giving students the level of work a college class requires. Unfortunately, these classes are usually based on getting ready for the test, not necessarily how a college class runs. That's why I suggest students who want to get ready for college should choose dual-enrollment classes.
Dual-enrollment is taking classes at a junior college while still attending high school. For VHS students, this means taking classes in the Ventura County Community College District. Taking these classes offers many different opportunities that they wouldn't get by taking AP classes. For example, it gives students the ability to choose the classes they want to take, it gives them college credits if they pass the class and allows students to graduate early if that is their end goal.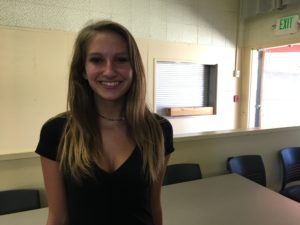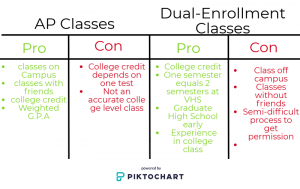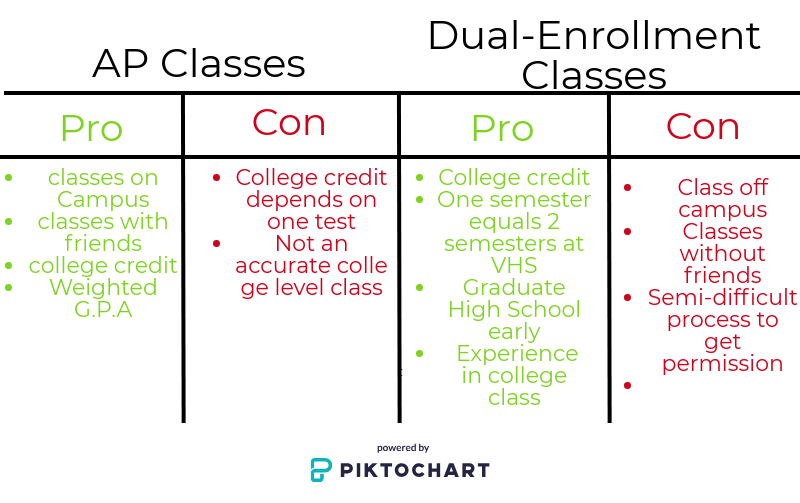 They are also a better choice financially than the costs of AP tests. To take an AP test, if you are not on the free and reduced the lunch plan, they cost $90. Whereas, taking class at the college under dual-enrollment you pay a total of about $47.
I am dual-enrolled because it is giving me a head start on college. I am on track to graduate high school with a year of college already finished. I have passed two AP test, passed three college classes over the summer and plan on taking three classes a semester at the college.
Junior Angie Lopshire, is taking classes at VC with the hope of graduating early. Lopshire is taking Intro to Political Science and History of Dance this semester and plans on taking math next semester.
In a study done by Community College Research Center (CCRC) at Teachers College, Columbia University and the National Student Clearinghouse Research Center, it was found that 64% of former community college dual enrollment students who first enrolled in a four-year college after high school completed a degree within five years. Compared to a study done by National Center for Education Statistics, the national average of graduations rates within five years is 35% for public universities and 53% from private non-profit universities.