The ballad of Serena Ropersmith
Ventura High School senior Serena Ropersmith performed her self-written music with the band The Barn Burners at Bombay Bar and Grill in downtown Ventura, CA on Sunday Oct. 14.
Ropersmith has been singing and writing her own music for a couple of years now, and is no stranger to the life on stage. She has performed in many talent shows, has had other shows at Bombay, and hosts her own small concerts at her parents' barn, where friends and family show up to support Ropersmith. She also records her music, which is available on SoundCloud.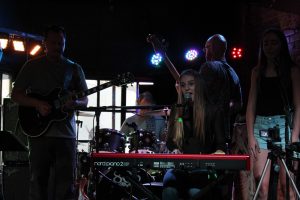 "I wrote my first song ever in 4th grade, but [I wrote] a real one freshman year," Ropersmith remarked on her experience writing songs. The night of Oct. 14, Ropersmith performed her original songs "Mine," "Sweet Release," "Twisted," "Evergreen," "Revenge," "Killing Me," "Addicted," "Think of You," "Delicate" and the song "Fallen" by Alicia Keys in front of a crowd at Bombay. Ropersmith prepared for her show by rehearsing the songs with her sister and making sure she was in the right mindset for her performance.
When asked what her favorite part about performing live is, Ropersmith responded, "I like making the audience feel how I felt when I was writing my song and being able to transfer the mood of the song to the audience."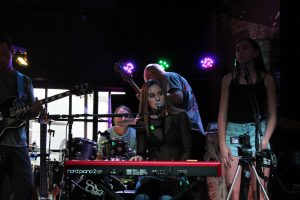 Ropersmith has developed a connection with music, but she doesn't necessarily wish to pursue a career in music: "I want to continue writing music and keep it in my life but I also want to go to college to be a vet," she commented.