Cougar crunch #2
Welcome back to the second edition of the Cougar Crunch, your Ventura High School nutrition and lunch review.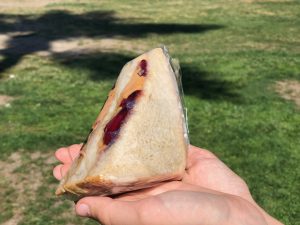 This week, we tried three entrees; the peanut butter and jelly sandwich, crispy chicken sandwich and the bean and cheese burrito.
Beginning with the peanut butter and jelly sandwich, which is made at the school but comes in a plastic wrapping, is your average PB and J. It has two pieces of whole grain-rich bread, with creamy peanut butter and slabs of thick fruit jelly.
This was a good peanut butter and jelly sandwich, but our one critique is the jelly to peanut butter ratio. It could use less jelly, but that's all personal preference. This is available regularly at lunch.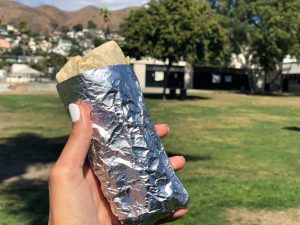 Next we tried was the crispy chicken sandwich, which is available almost everyday during lunch. This is a crispy chicken patty on a whole grain bun. Without any condiments, the bun tasted a little dry, but overall the crispy chicken sandwich had good flavor. It could go great with a little ketchup and some pickles.
The last thing we tried was the bean and cheese burrito, available almost every Thursday at lunch. This bean and cheese burrito is wrapped in a whole wheat tortilla, as it seems to be the healthier alternative. The only thing that it could use would be a little more cheese, but other than that it's very good and would taste great with the salsa available in the cafeteria.
If you want to try any of these entrees, go to the cafeteria on the days listed above.
[cvm_video id="5338″]