Community reacts to Creswell's resignation
Community leaders and school officials responded in a variety of ways to the Friday resignation of Ventura Unified School District Superintendent David Creswell.
Creswell, who had held the position for just over a year, announced plans to leave his post under mounting public pressure driven by backlash against comments he made in a 2016 sermon, which some believe to be homophobic and transphobic. 
In a faculty meeting held Monday, Principal Carlos Cohen and other Ventura High School teachers and staff discussed the situation, and how the district plans to move forward.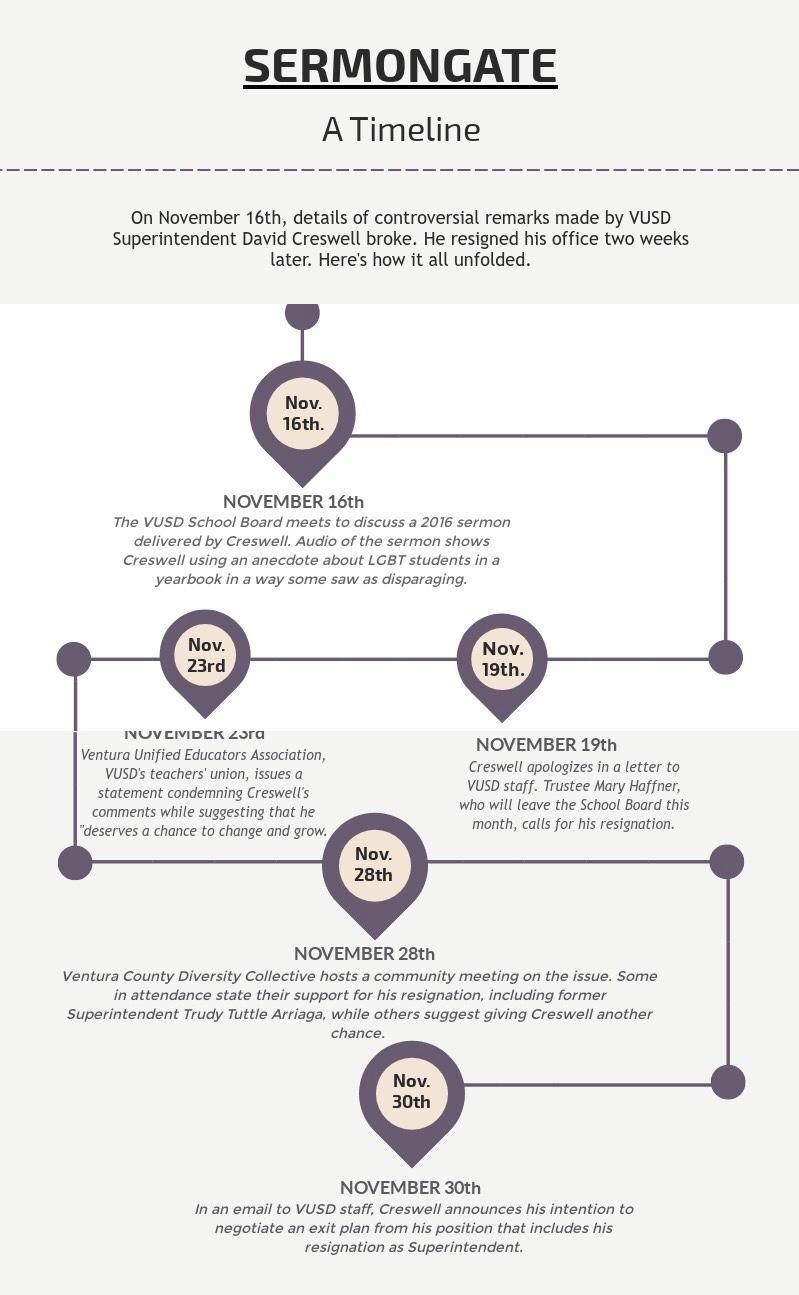 "What I think this meeting was about was mainly giving us the chance to get more clarity about what situations are unfolding," said VHS teacher Meghan Zero. "Just kind of the steps, and what was the timeline, and trying to get a sense of why and what might happen after that."
Beyond the fact that it will involve his resignation, the exact nature of Creswell's exit plan remains unclear, as does the process by which a new VUSD Superintendent will be selected.
"[The selection process] kind of depends on why our Superintendent left… If they retired, then oftentimes there's a committee that gets selected, and then they go searching for people who want to apply, and there are several interviews, just like for any high public-facing job. But in an instance where a Superintendent leaves in the middle of the year, it's a lot more of a case-by-case basis kind of a thing, so I don't know all the particulars of how this is going to go down," stated Zero.
The Ventura County Diversity Collective, a local LGBTQ rights group, also responded to the resignation of Superintendent Creswell in a youth gathering held Friday night.
The roundtable-style meeting was headed up by Rainbow Umbrella, a VCDC program that provides support for LGBTQ teens in the community. It focused primarily on how VUSD can move forward from Creswell's resignation, and adjust its policies to be more LGBTQ-friendly.
One idea that the group has promoted is that of "cultural competency training."
"When you go to a cultural competency training, you learn either about a specific type of culture, whether that's through someone's ancestry, or how to serve a 'special population,' or a population that is vulnerable like LGBTQ youth," said Audrey Ford, program coordinator for Rainbow Umbrella. "But I would argue that you can't be competent unless you also add proficiency and humility to the work that you're doing. So it's connecting these different pieces of… you know the population, you might know statistics and why they are vulnerable, but that doesn't mean you have the tools to provide resources that are responsive to their needs."
"That's what we do here at Rainbow Umbrella," added Ford. "We have a contract with Ventura County Behavioral Health to provide LGBTQ cultural competency trainings for teachers, educators, front-end staff, and organizations who are serving youth."
VHS senior Mackenzie Jones, who attended the roundtable, sees the LGBT community playing a substantial role in the district's future as it moves on from the scandal.
"I feel like Diversity Collective, working with the LGBT community, is extremely important and very, very beneficial," said Jones. "Diversity Collective can actually relay the voices of the youth to the new Superintendent and to the School Board, and they can actually tell them what we want to see in our new world."